Read the passage given below and answer the following questions:
Reduction of carboxylic acids and their derivatives plays an important role in organic synthesis, in both laboratory and industrial processes. Traditionally, the reduction is performed using stoichiometric amounts of hydride reagents, generating stoichiometric amounts of waste. A much more attractive, atom-economical approach is a catalytic reaction using H2; however, hydrogenation of carboxylic acid derivatives under mild conditions is a very challenging task, with amides presenting the highest challenge among all classes of carbonyl compounds. Very few examples of the important hydrogenation of amides to amines, in which the C-O bond is cleaved with the liberation of water (Scheme 1), were reported. C-O cleavage of amides can also be affected with silanes as reducing agents. (Generation of amides to the with cleavage of the C–N products of C–O cleavage the case of anilides). The and neutral, homogeneous Scheme 1. General Sche C-O cleavage We have now prepared the new, dearomatized, bipyridine-based pincer complex 3, catalyst 3 (Here refered as Cat. 3). Remarkably, it efficiently catalyzes the selective hydrogenation of amides to form amines and alcohols (eq 1). The reaction proceeds under mild pressure and neutral conditions, with no additives being required. Since the reaction proceeds well under anhydrous conditions, hydrolytic cleavage of the amide is not involved in this process. been reported.6 Amines and chemical, pharmaceutical and ch a reaction is conceptually step in amide hydrogenation bonvl group to form a very anhydrous condition involved in this pro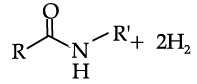 In the following questions, a statement of assertion followed by a statement of reason is given. Choose the correct answer out of the following choices on the basis of the above passage.
Assertion (A): N-methyl ethanamide on reaction with catalyst 3 will yield ethanol and methanamine.
Reason (R): Use of Catalyst 3 brings about cleavage of C-N bond of amides