Read the following text and answer the following questions on the basis of the same:
Tribo-electric series: The tribo-electric series is a list that ranks materials according to their tendency to gain or lose electrons. The process of electron transfer as a result of two objects coming into contact with one another and then separating is called tribo-electric charging. During such an interaction, one of the two objects will always gain electrons (becoming negatively charged) and the other object will lose electrons (becoming positively charged). The relative position of the two objects on the tribo-electric series will define which object gains electrons and which object loses electrons.
In tribo-electric series, materials are ranked from high to low in terms of the tendency for the material to lose electrons. If an object high up on this list (Glass, for example) is rubbed with an object low down on the list (Teflon, for example), the glass will lose electrons to the teflon. The glass will, in this case, become positively charged and the teflon will become negatively charged. Materials in the middle of the list (steel and wood, for example) are items those do not have a strong tendency to give up or accept electrons.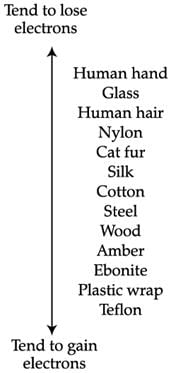 Materials in the upper position has _____ tendency to become positively charged.