Consider a list of recursive algorithms and a list of recurrence relations as shown below. Each recurrence relation corresponds to exactly one algorithm and is used to derive the time complexity of the algorithm.
List-I (Recursive Algorithm)
P. Binary search
Q. Merge sort
R. Quicksort
S. Tower of Hanoi
List-li (Recurrence Relation)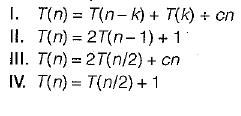 Which of the following is the correct match between the algorithms and their recurrence relations?