Detailed Solution for Faraday's Law MCQ Level - 2 - Question 5
Let wire cd is at distance x from the edge be considered a plane surface bounded by the loop acdb and unit normal vector

lying in same direction as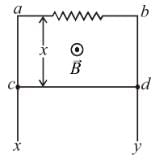 Flux through area acdb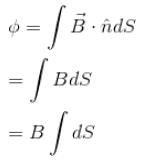 = Blv
Since, Flux is increasing with time, emf will be induced so as to circulate current resulting in weakening of magnetic field. So, current should flow from P to Q.
Current

Lorentz force acting on rod


= ilB

are perpendicular


(forward up the incline)
Free body diagram of slide is shown in figure.
There is no acceleration in direction perpendicular to plane of the loop.
So, N = O [N Normal reaction perpendicular to the plane]
But in the plane of the loop, the wire cd slide down due to gravitational force acting downward and lorentz force acting upward.
So, In downward direction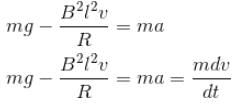 But when we talk about steady speed,