Solution:
Thiessen Polygon Method:
This method is also known as weighted area method. The rainfall data at every station is given a weightage on the basis of an area close to the station

Where Pavg = Average Precipitation
P1, P2, ........Pn are precipitation at station 1, 2, ....., n respectively
A1, A2, ........An is the area for station 1, 2, ....., n respectively
This method of fining average rainfall is suitable
→ when the area is large
→ rainfall varies from place to place
1) In order to find the representative area, all the stations are joined, so as to form a network, of the non-intersection triangle.
2) Perpendicular bisector is then drawer from the sides of the triangle in such a way that a representative area is obtained for each of the rain gauge stations.​
Calculation: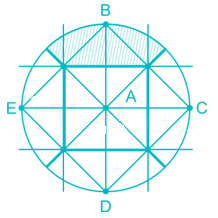 Catchment diameter = 24 km
Catchment area for station A
= (12 × 12) km2
= 144 km2
∴ Total area of catchment

= 452.4 km2
∴ Catchment area for B, C, D, and E will be equal and

= 77.1 km2
∴ Mean Rainfall

Mean Rainfall =228.7 cm = 0.2287 m