Detailed Solution for Magnetic Effect Of Current MCQ Level - 1 - Question 4
When a charged particle enters a magnetic field perpendicularly, it moves on a circular path. The required centripetal force is provided by magnetic force.
i.e. magnetic force = Centripetal force.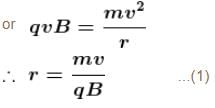 Now kinetic energy of the particle


Therefore, Eq. (1) become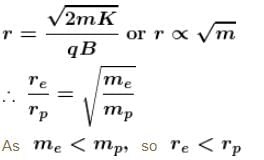 Hence trajectory of proton is less curved.
The correct answer is: Trajectory of proton is less curved