Water flows through a 90° bend in a horizontal plane as depicted in the figure.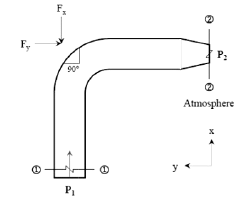 A pressure of 140 kPa is measured at section 1-1. The inlet diameter marked at section 1-1 is

cm, while the nozzle diameter marked at section 2-2 is

cm. Assume the following:
(i) Acceleration due to gravity = 10 m/s2.
(ii) Weights of both the bent pipe segment as well as water are negligible.
(iii) Friction across the bend is negligible.
The magnitude of the force (in kN, up to two decimal places) that would be required to hold the pipe section is______