Solution:
The 3-Phase four wire system is used for the distribution system. A three-phase four-wire supply gives a consumer the choice of a 400 V three-phase supply and a 230 V single-phase supply. Many industrial loads such as motors require a three-phase 400 V supply, while the lighting load in a factory, as in a house, will be 230 V. Industrial loads usually demand more power than a domestic load, and more power can be supplied by a 400 V three-phase supply than is possible with a 230 V single-phase supply for a given size of cable since power = VI cosφ (watts).
This form of connection is shown in Fig. and is known as a star or Y connection. With the resulting 4-wire system, the three loads also are connected in star configuration The three outer wires are called the lines, and the common wire in the center is called the neutral. One reason for the connection of the neutral conductor is to provide a path for currents if the system became unbalanced. Another is that it enables single-phase loads to be connected to a three-phase system.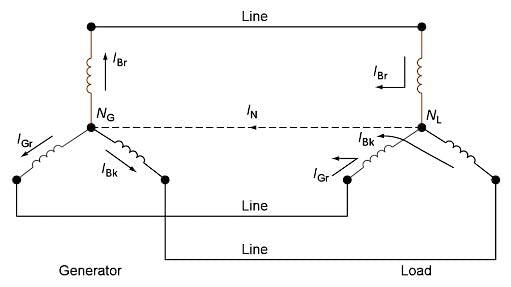 The addition of the conductor between the star points converts the system into what is known as a 'three-phase four-wire system'. We can see that the currents supplied by the generator flow along the lines, through the load and return via the neutral conductor.
However, in a balanced three-phase system are equal, and add up to the neutral current, which is zero:
IBr + IBk + IGr = IN = 0
If the three loads were identical in every way (same impedance and phase angle), then the currents flowing in the three lines would be identical. The three currents meet at the star point of the load. The resultant current returning down the neutral wire would, therefore, be zero. The load, in this case, is known as a balanced load, and the neutral is not strictly necessary. However, it is difficult, in practice, to ensure that each of the three loads is exactly balanced. For this reason, the neutral is left in place. Also, since it has to carry only the relatively small 'out-of-balance' current, it is made half the cross-sectional area of the lines.
In some cases, the same-sized cable is normally used for all four wires both to allow for inevitable imbalances and to also ensure that the neutral cable has equal tensile strength as the phase conductors.