A cylindrical tank has a hole of diameter 2r in its bottom. The hole is covered wooden cylindrical block of diameter 4r, height h and density ρ/3.
Situation I : Initially, the tank is filled with water of density ρ to a height such that the height of water above the top of the block is h1 (measured from the top of the block).
Situation II : The water is removed from the tank to a height h2 (measured from the bottom of the block), as shown in the figure.
The height h2 is smaller than h (height of the block) and thus the block is exposed to the atmosphere.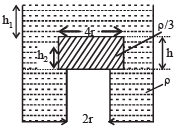 Q. Find the height of the water level h2 (in situation 2), for which the block remains in its original position without the application of any external force