The reaction of nitric oxide with ozone takes place according to the following stoichiometry.

The observed rate law for the reaction is found to be

Where α and β are constant. To explain the above rate low, the following reaction scheme has been proposed: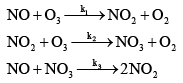 Determine an expression for β .