Direction (Q. Nos. 21-25) This section contains a paragraph, wach describing theory, experiments, data etc. three Questions related to paragraph have been given.Each question have only one correct answer among the four given options (a),(b),(c),(d)
Passage I
Electronegativity values (EN) of elements have been given (in Pauling's scale)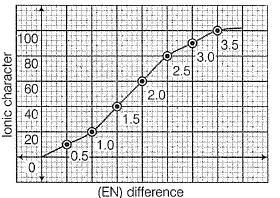 Graph shows variation of percentage ionic character with (EN) difference of two elements.
Q. Which of the following bonds is most polar?