Passage III
Isotherms of carbon dioxide , I (at T1), II (at T2),
III (at T3) and IV (at T4) are given. Also, T1 < T2 < T3 < T4 .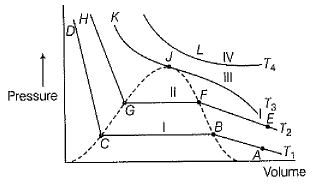 Q. Consider the following facts.
I. On increasing volume at T1 or T2 there is sharp decrease in pressure indicating liquefaction.
II. At T3, there is no horizontal curve indicating no liquefaction. Thus, T3 is critical temperature.
III. Along CB or GF, there is liquefaction thus liquid and gaseous phases are present.
Select the correct facts.