Direction (Q. Nos. 15-20) This section contains 3 paragraphs, each describing theory, experiments, data, etc. Six questions related to the paragraphs have been given. Each question has only one correct answer among the four given options (a), (b), (c) and (d).
Passage I
Peroxy acetyl nitrite

is an air pollutant, as it decomposes into radicals :

A sample of polluted air is analysed for its PAN content which is reported as molecules per litre of air at 298 K.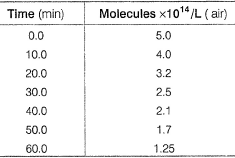 Q.
Determine the order of the PAN decomposition