Detailed Solution for Test: Mitosis - Question 1
Mitosis consists of four basic phases:
Prophase
Metaphase
Anaphase
Telophase
These phases occur in this strict sequential order, and cytokinesis - the process of dividing the cell contents to make two new cells - starts in anaphase or telophase.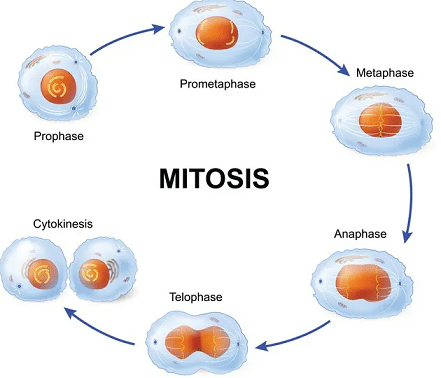 1. Prophase - During prophase, chromosomes get visible (chromatids), the centrioles migrate to the poles, nuclear membrane and nucleolus disappear and spindle formation is seen. Prophase in mitosis is longer than any other phases of mitosis because the cell has to prepare for the actual division that takes place from early through late prophase.
2. Metaphase - During this, chromosomes lineup around the centre (Cells in metaphase have the chromosomes, which appear as long thin strands under the microscope).
3. Anaphase - here, chromatids separate and move to opposite poles by spindle fibers. This allows each daughter cell to have an identical copy of each of the original cell's chromosomes.
4.Telophase - During this phase, chromosomes disappear (become chromatin), nuclear membrane reforms, nucleoli reappears, spindle disappears and centrioles duplicate.
Hence, the correct option is D.
NCERT Reference: Page no. 164 of topic "10.2 M PHASE" of chapter 10 of NCERT.