Direction (Q. Nos. 13 and 14) This section contains a paragraph, describing theory, experiments, data, etc. Two questions related to the paragraph have been given. Each question has only one correct answer among the four given options (a), (b), (c) and (d).
Passage
In the all oxyacids of phosphorus, each phosphorus atom is in sp3-hybridised state. All these acids contain P—OH bonds, the hydrogen atom of which are ionisable imparting acidic nature to the compound. The 'ous' acids (oxidation state of P is + 1 or + 3) also have P—H bonds in which hydrogens are not ionisable.
The presence of P—H bonds in these acids imparts reducing properties. The structure of some oxyacids are drawn below: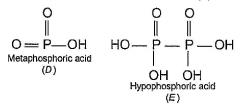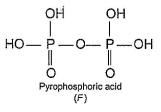 Q.
Although metaphosphoric acid is written as a monomer, it exists as a polymer (HPO3)n. The number of P—O—P bonds in cyclic trimetaphosphoric acid is