Solution:
A cross between two individuals, one with AB blood group and other A blood group will produce four genotypes and three phenotypes.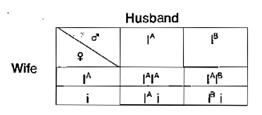 Offsprings Genotypes : 4 (IA IA, IA IB, IA i, Ia i)
Phenotypes : 3 (A, B, AB)
OR
Genotype of husband = IAIB (Given)
Genotype of wife = IAi (Given)
Thus, according to the law of independent assortment -
The gametes have gene R and r, and they have also alleles Y and y.
The segregation of 50% of R and 50% of r is always independent from segregation of 50% Y and 50% of y
► wherein the combination will be -
Thus, there are four genotypes of gametes, RY, Ry , rY and ry each with frequency of 25% of the total gametes hence produced.
Therefore, 4 genotypes and 3 phenotypes are possible.