Solution:
Co-dominance is the phenomenon that deviates from Mendel's law of inheritance. Both the alleles appear in offspring instead of one as in Mendel's experiment. ABO blood grouping in human being is example of co-dominance in which both IA and IB appear simultaneously to form AB blood type.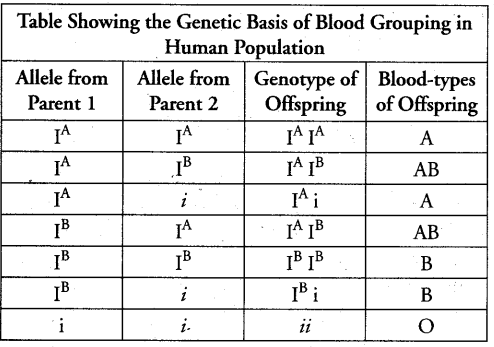 For ABO system of blood groups, allele IA produces N-acetylgalactosamine transferase enzyme which recognises H- antigen present in RBC membrane and adds N-acetylgalactosamine to sugar parts of H antigens to form A antigen.
The allele IB produces galactosyl transferase enzyme which recognized H antigen to form B antigens. Allele i does not produce any sugar or antigen.
IA and IB are completely dominant over i, in other words antigens A and B are produced. This is because of co-dominance. These antigens determine the type of blood group. Blood group A has antigens B have antigen, AB has both antigens while blood group. Blood group A have antigen A, group B have antigen B, AB has both antigens while blood group O do not carry any antigens.
Thus, six genotypes and four phenotypes are possible.