Detailed Solution for Test: Structural Analysis- 1 - Question 2
In the virtual work method of plastic analysis of steel structure, the virtual quantity is displacement.
Virtual work arises in the application of the principle of least action to the study of forces and movement of a mechanical system. The work of a force acting on a particle as it moves along a displacement will be different for different displacements. Among all the possible displacements that a particle may follow, called virtual displacements, one will minimize the action. This displacement is therefore the displacement followed by the particle according to the principle of least action. The work of a force on a particle along a virtual displacement is known as the virtual work.
Principle of virtual work: (unit-load Method)
Developed by Bernoulli: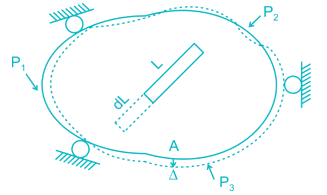 To find Δ at point A du to loads P1, P2, P3. Remove all loads, apply virtual load P' on point A.
For simplicity P' = 1
It creates internal load u on representative element.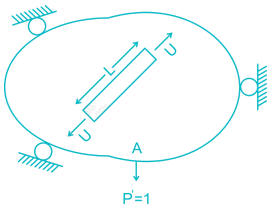 Now remove this load, apply P1, P2, P3 due to which pt. A will be displaced by Δ
∴ External virtual work = 1.Δ
Internal virtual work = u.dL




P' = 1 = external virtual unit load in direction of Δ.
u = internal virtual load acting on element in direction of a dL.
Δ = external displacement caused by real loads.
dL = internal deformation caused by real loads.