Group Question
Answer the following question based on the information given below.
The following pie-chart shows the sales and revenue collection for 5 different products produced in an electronic company. The cost incurred in producing a T.V., Fridge, Computer, D.V.D. and Micro-wave oven is Rs. 800, Rs. 950, Rs. 1350, Rs. 650 and Rs. 1300 per unit respectively.
Profit = Collection - Cost incurred Loss = Cost incurred - Collection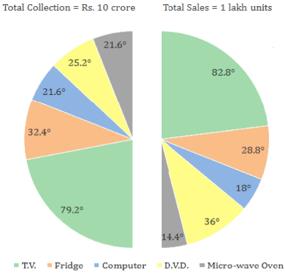 Q. What is the profit earned on one unit of Fridge?