The following questions consist of two statements one labelled ASSERTION (A) and the another labelled REASON (R). Select the correct answers to these questions from the codes given below :
Assertion : For calculation of current in resistors of resistance R1, R2 and R3 in the circuit shown in figure 1, the circuit can be redrawn as shown in figure 2 (this means that circuit shown in figure 2 is equivalent to circuit shown in figure 1). All the cells shown are ideal and identical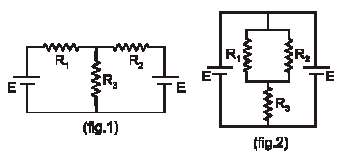 Reason : Whenever potential difference across two resistors is ame, both resistors can be assumed as a combination of two resistors in parallel.