Solution:
Persons: Tharun, Nikitha, Surya, Priya and Akshaya.
Months: August, September, October, November and December.
Items: Chocolates, Pastries, Ice cream, Cake and Sweets.
Considering the information provided in the question:
1) The one who likes Chocolates is born in the month which is exactly in the middle in the given months.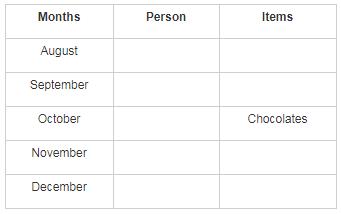 2) Akshaya brings Ice cream for Surya in September.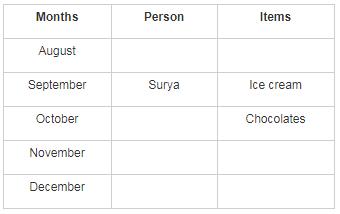 3) Nikitha doesn't like Chocolates and Pastries and is born not in the month in which chocolates are eaten.
4) Priya who is fond of Sweets is born in the month immediately after Nikitha.
(Hence, Nikitha is born only in the month of November and is fond of Cake. So, Priya is born in December.)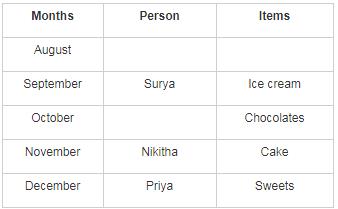 5) Akshaya doesn't like Chocolates.
(Hence, she is born in the month of August.
The remaining item is Pastries and is taken in the month of August.
Hence, Tharun is born in October.)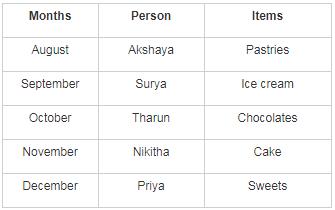 Clearly, Surya was born in the month next to Akshaya.