The following table gives the tariff [in paise per kilo-watt-hour (k Wh)] levied by the UPSEB in 1994-95, in four sectors and the regions within them. The table also gives the percentage change in the tariff as compared to 1991-92.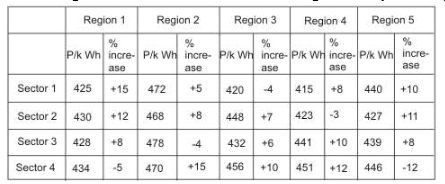 The UPSEB supplies power under four categories; urban (25%), domestic (20%), industrial (40%), and rural (15%). In 1994-95, the total power produced by the UPSEB was 7875 megawatts.
In the given two years, what is the total tariff paid by the urban sector ?