Detailed Solution for Test: Comprehension Based Questions: Vector Algebra and Three Dimensional Geometry - Question 6
The given planes are
P1 : x – y + z = 1 ...(1)
P2 : x + y – z = –1 ...(2)
P3 : x – 3y + 3z = 2 ...(3)
Line L1 is intersection of planes P2 and P3.
∴ L1 is parallel to the vector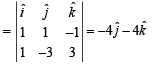 Line L2 is intersection of P3 and P1
∴ L2 is parallel to the vector

Line L3 is intersection of P1 and P2
∴ L3 is parallel to the vector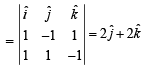 Clearly lines L1, L2 and L3 are parallel to each other.
∴ Statement–1 is False
Also family of planes passing through the intersection of P1 and P2 is P1 + λP2 = 0 .If plane P3 is represented by P1 + λP2 = 0 for some value of l then the three planes pass through the same point.
Here P1 + λP2 = 0

This will be identical to P3 if
...(1)

and taking

∴There is no value of λ which satisfies eq (1).
∴ The three planes do not have a common point.
⇒ Statement 2 is true.
∴ (d) is the correct option.