Comprehension Type
Direction (Q. Nos. 15-17) This sections contains a paragraph, describing theory, experiments, data, etc.
Three questions related to the paragraph have been given. Each question has only one correct answer among the four given options (a), (b), (c) and (d).
Passage
Benzaldehyde when treated with KCN(aq) undergoes a condensation reaction, known as benzoin condensation forming benzoin A. Benzoin on oxidation with HNO3 gives a diketone known as benzil B. Benzil on heating with ethanolic KOH undergo benzil-benzilic acid rearrangement as



The widely accepted mechanism of last step rearrangement is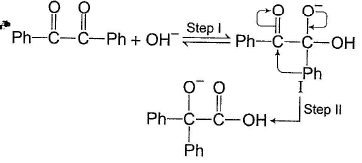 Q. 
When benzil is treated with dilute 

both of its oxygens are replaced by O18 isotope. It proves that