Solution:
Rocket runs slow so earth clock reads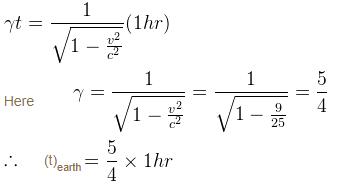 ∴ Earth clock read 1 hr 15 minutes.
By the earth observer, the rocket is now at a distance of

hours away.
∴
light signal will take 3/4 hour to return to earth.
Since, the signal left 5/4 hr after the departure
∴ light signal reaches 5/4 + 3/4 = 2hrs later.
Earth clock runs slow (in the reference frame of the rocket)


The correct answers are: According to the earth clock the signal was sent at 75 minutes after departure of the rocket, According to the rocket observer the signal reached earth 150 minutes after the rocket left., According to the earth clock, the signal reached earth 120 minutes after the rocket's departure