In the given figure, there are there intersecting circles each representing certain section of people.
Different regions are marked p, d, r, s, t, u, v. Read the statement in the given question and choose the letter of the region which correctly represents the statement.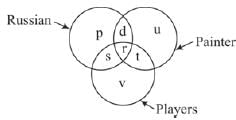 Q. Russian who are painters but not players.