The figure shows the shear force diagram for an overhanging beam ACDB.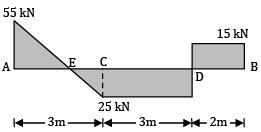 Consider the following statements with respect to the above beam
1. The beam has supports at A and D
2. The beam carries a concentrated load at C of 25 kN
3. Bending moment at D is 15 kNm
4. The beam carries a uniformly distributed load of 80 kN over the portion AC.
Which of the statements given above is/are correct?