Detailed Solution for Area & Perimeter - 2 - Question 6
We are given the following in the question:
The breadth of a rectangle is increased by 2 units.
Let l be the original length and b be the original breadth.
New breadth = b + 2
The perimeter of rectangle =

The perimeter of new rectangle =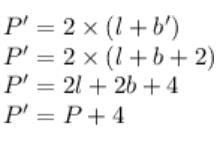 Hence, the perimeter of rectangle increases by 4 units.