Given diagram is a torch containing cells. The torch is not glowing when the switch is ON. Now, it is opened to know the reasons. Which of the following statements are correct regarding the reasons?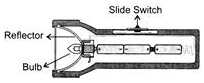 (i) Bulb of the torch is fused.
(ii) Cells are not connected properly.
(iii) The metal parts of the torch do not make proper contact with the cell.