Solution:
Steps 1 & 2: Understand Question and Draw Inferences
Given:
A right circular cylinder

Let radius = R units
Let height = H units

A paper label of area 12 square units

Let height of paper label = h units
Length of the paper label = Circumference of the top-view circle of the cylinder = 2πR
So, area of paper label = 2πRh=12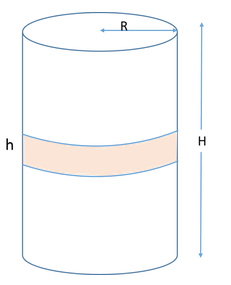 To find: The curved surface area of the paint can
Curved Surface Area = A=2πRH . . . (II)
Substituting (I) in (II):
A=12H/h  . . . (III)
Thus, in order to find the required area, we need to find the ratio H/h
Step 3: Analyze Statement 1 independently
(1) The center of the paper label is at a distance of 5 units each from the top and the bottom of the can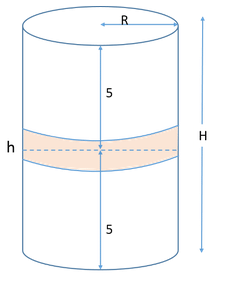 H = 5 + 5 = 10
But we don't know the value of h yet.
So, statement 1 is not sufficient.
Step 4: Analyze Statement 2 independently
(2) The height of the can is five times the height of the paper label.

Since we now know the value of , we can find a unique value of A.
Sufficient.
Step 5: Analyze Both Statements Together (if needed)
Since we've already arrived at a unique answer in Step 4, this step is not required
Answer: Option B