Plot of ratio of pressure to gas compressibility factor (P/Z) vs. cumulative gas production (Gp) for a gas reservoir (represented by solid curve in the figure) was shown to a reservoir engineering student.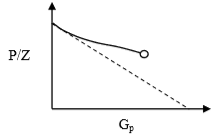 The student made the following statements:
(I) A water aquifer is attached to this gas reservoir.
(II) P/Z vs. Gp curve must always be a straight line for water encroachment in a gas reservoir.
(III) The ultimate gas recovery is diminished due to water encroachment.
Which of the above statements are TRUE?