Q. No. 15 -18 carry 3 marks each.
This section contains TWO paragraphs
Based on each paragraph, there are TWO questions
Each question has FOUR options (A), (B), (C) and (D). ONLY ONE of these four options is correct
Pragraph 1
A frame of reference that is accelerated with respect to an inertial frame of reference is called a non-inertial frame of reference. A coordinate system fixed on a circular disc rotating about a fixed axis with a constant angular velocity ω is an example of a non-inertial frame of reference. The relationship between the force

experienced by a particle of mass m moving on the rotating disc and the force

experienced by the particle in an inertial frame of reference is


where

is the velocity of the particle in the rotating frame of reference and

is the position vector of the
particle with respect to the centre of the disc. Now consider a smooth slot along a diameter of a disc of radius R rotating counter-clockwise with a constant angular speed ω about its vertical axis through its center. We assign a coordinate system with the origin at the center of the disc, the x-axis along the slot, the y-axis perpendicular to the slot and the z-axis along the rotation axis

. A small block of mass m is gently placed in the slot at

and is constrained to move only along the slot.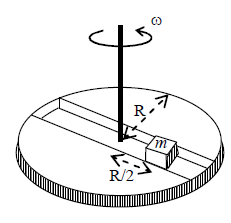 Q. The distance r of the block at time t is