Solution: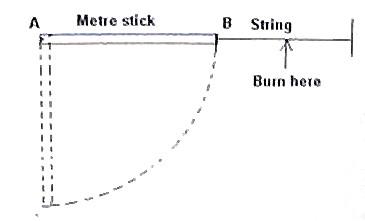 The centre of gravity of the metre stick is at its middle. When the string is burnt, the height of the centre of gravity is reduced by 0.5 m, thereby reducing the gravitational potential energy of the metre stick by Mgh= M×10×0.5 = 5M joule, where M is the mass of the metre stick.
The decrease in the potential energy is equal to the increase in kinetic energy. Therefore in the vertical position of the metre stick, its kinetic energy
(½)Iω2 = 5M
Since the moment of inertia of a uniform bar of length L about a normal axis through ite mid point is ML2/12, its moment of inertia about a parallel axis through its end is ML2/3. [You will get this by applying the parallel axis theorem (see the post dated 2oth January 2008)]
Therefore, we have (½)(ML2/3)ω2 = 5M
Since ω = v/L and L = 1 metre, the above equation becomes
v2/6 = 5, from which v = √30 = 5.4 ms–1 (approximately).