Solution:
The author's primarily concerned with
Passage Analysis










Summary and Main Point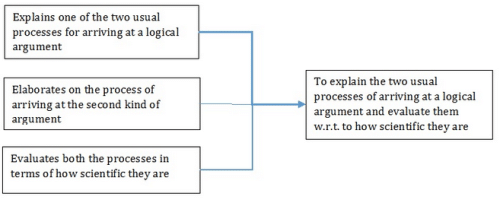 Prethinking
This is an Inference question. We know that the correct answer will be based on the information given in the second or the third paragraph as induction as a process is only discussed in these two sections. However, since there are multiple ideas mentioned (regarding induction) in these paragraphs, we cannot pre-think on very specific lines.
With this understanding in mind, let's evaluate the answer choices.
Answer Choices
A
There is no way to be certain whether the theories it provides are fully logical.
Incorrect: Inconsistent
In the second paragraph, the author says that the theories, though logical, cannot be fully proved as correct. Hence, this choice is not consistent with the information given in the passage.
B
A theory arrived at through it is not likely to be the only possible explanation of the observed facts.
Correct
This information is a combination of two pieces of information given to us in the second paragraph. First, we are told that:
In other words, you determine what theory or theories could explain the data.
Second, we are told that:
Note, however, that induction does not prove that the theory is correct. There are often alternative theories that are also supported by the data.
C
One can provide a hundred percent proof for the conclusion drawn through it.
Incorrect: Opposite
This statement is made in the first paragraph for the process of deduction. For induction, the author says that one can never be fully sure of the theory one arrives at through it.
Reference (final paragraph):
And, while induction is driven by observation, it never approaches actual proof of a theory.
D
The conclusion arrived at through it are very likely to be causal in nature.
Incorrect: Out of Context
The causal relation drawn between parents behavior/ genetic makeup and children's chances of developing schizophrenia does not suggest that most of the conclusions arrived at through the process of induction are causal in nature. This relation is specific to the example given to explain the process.
E
One of the reasons it fails to provide a single theory is that no two individuals are likely to interpret a given set of information in the same way.
Incorrect: Out of Scope
Although we are told that there could be more than one theory to explain the data in induction, there is no information regarding the cause of the same.