Detailed Solution for Test: Basic Concepts Of Geometry - Question 6
Two angles form a linear pair if they have;
A common arm
A common vertex
Their interiors do not overlap
The sum of two angles is 180°.
Therefore, linear pair of angles are adjacent angles whose non-common arms are opposite rays.

Note:
All adjacent angles do not form a linear pair.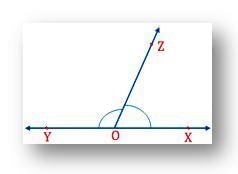 From the above figure we can observe; OX and OY are two opposite rays and ∠XOZ and ∠YOZ are the adjacent angles. Therefore, ∠XOZ and ∠YOZ form a linear pair.
If you measure ∠XOZ and ∠YOZ with the help of the protractor, you will find the sum of their measures equal to 180°.

Thus, the sum of the angles in a linear pair is 180°.