A drug peddler operated from four different locations to avoid the local police traps. He had named these places as Tea Stall, Coffee Stall, Milk Stall and Juice Stall. This drug peddler dealt in six different types of drugs: Cocaine, Heroin, Opium, Marijuana, Morphine and Darvon. To camouflage his operations he sold these drugs in pre-packed envelopes. Further to facilitate his operations he had got all of these drugs packed according to the order size. The different envelopes he used to denote different sizes were known as Chota, Medium, Bada, Vazir, and Badshah. Each of the drugs was available in all the sizes of envelopes.
However an intelligent officer, Karamchand from Narcotics department received certain pieces of information from one of his sources, Lily. Before raiding on to the premises Karamchand decided to completely analyze the piece of information he had with him.
The first chart gave the details of the number of envelopes mentioned as a percentage of the total number of envelopes.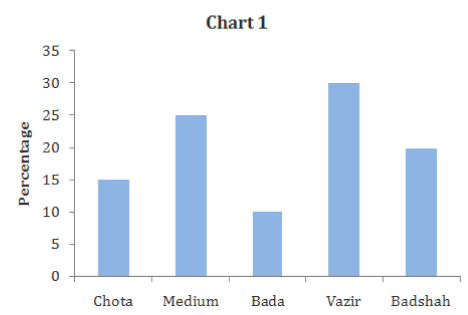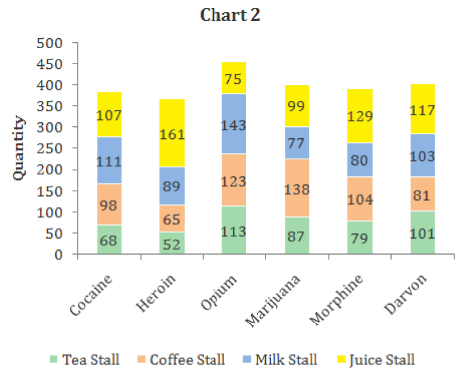 His second source, Liliput gave him additional information that the number of Vazir envelopes, as a percentage of total number of envelopes in each of the location, is not more than 1% in Coffee and Milk stall.
His third source, Parma opined that all the envelopes containing one or the other of the three drugs - Cocaine, Heroin and Darvon - were only in one or the other of the three envelopes - Chota, Medium or Bada.
Q.
f the Chota envelopes containing Opium, Marijuana and Morphine are the maximum possible, then the number of envelopes of Opium in Coffee Stall that are not Chota, Medium or Bada cannot be less than____
(Assume information from 1st and 3rd source to be true.)