Answer the following question based on the information given below.
Six classes, namely: Class A, Class B, Class C, Class D, Class E and Class F of a certain Management Institute were supposed to select exactly three specializations from Marketing, Finance, Human Resources, IT Management, Operations Management and Retail Management. All the students in any particular class selected the same set of specializations and further each specialization was selected by atleast one of the six classes. Also, 1. Students of Class B selected exactly one specialization which the students of Class E rejected. 2. There were exactly two specializations that were chosen by Class A as well as Class C. 3. There were exactly three specializations that were not chosen by Class C as well as Class F. 4. The students of Class F chose Marketing and Operations Management while the students of Class E did not choose IT Management.
The table below gives the details of the number of classes that opted for the specializations.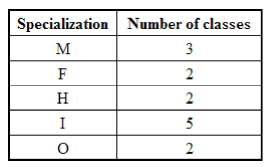 In the above table: M: Marketing, F: Finance, H: Human Resources, I: IT Management, O: Operations Management.
Q.
he statement below is followed by three outcomes numbered I, II and III. An outcome is either a step of administrative decision to be undertaken for improvement, or a follow-up for further action, or natural response by stakeholders, etc. on the basis of the information provided in the statement. Everything mentioned in the statement is to be assumed to be true, on the basis of which the most logically followed course of action has to be decided.
Statement: Mid-day meal scheme was started to lure children to come to school and improve enrolment with help of free food. Unhygienically cooked and under-nutritious food are two major issues dogging the scheme. Experts say the scheme suffers from structural problems, the biggest being the lack of a proper monitoring mechanism.
I. The mid-day meal scheme should be stopped in poverty-stricken areas.
II. Inspectors should be sent to check whether food is being provided properly.
III. Nourishing food prepared in a clean environment should be doled out to children.