Group Question
Answer the following question based on the information given below.

There is a star shaped building with 5 office sections A, B, C, D and E of Alternate Expenditures Ltd. as shown below. Five couples work in these companies and are located at the ends of the bridging stations as shown. For example, 1-6 is a bridging station and a woman and a man work at the ends 1 and 6 respectively. It is known that no married couple can work on the opposite ends of a bridging station. Also, all women work on the outer nodes 1 to 5 and men work in the inner nodes 6 to 10. Also, it is known that a person working at a bridging station works for both sections connected to that station. For example, the woman working at station 3 works for both sections C and D. Also, no couple can work in the same section. Also, people from the same sections only can work on the same project and have worked with each other at least once while people working on a bridge have to attend the daily office meetings together. Lastly, people with no common sections never meet each other in office.
On the basis of the information given below, answer the questions that follow:
i. Amrita is married to Puneet who works neither for B nor for D.
ii. Meeta works at station 1.
iii. Vrinda is neither married to Sahil nor to Rohan and works in station
4. iv. Amrita and Meeta do not work for a common section.
v. Akash works on the same bridge as Rajesh's wife.
vi. Meeta has never met Sahil.
vii. Kirti and Sakshi both share 1 section each with Meeta.
viii. Kirti and Vrinda often work on the same project together.
ix. Rajesh recently celebrated his 1 month marriage anniversary with Meeta.
x. Sahil and Vrinda meet each other every day but are not married.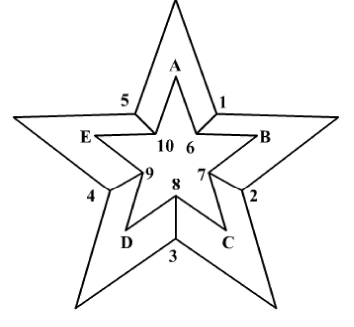 Q. Which of the following pairs never meet in office?