Solution:
SKEMPTON'S Method:
This theory is applicable only for C-soils but it can be applied for shallow and deep footings both. In this theory, base resistance and side resistance both are considered. The net ultimate bearing capacity is given by:
qnu=CNc
Where,
Nc = Skempton's bearing capacity factor which depends upon Df/B ratio
Hence for a clay layer, the net ultimate bearing capacity (By Skempton) at the base of the footing is directly proportional to the cohesion of the soil.
Case 1: When Df/B = 0,

Nc = 5.0 (strip footing)
= 6.0 (Square/Circular/Rectangular/ Raft)

Case 2: When 0 Df/B < 2.5



Case 3: When

Nc = 7.5 (Strip footing)
Nc = 9.0 (Square/circular/rectangular/raft)
Therefore, when B = Df , case 2 is valid


Local shear failure:
This type of failure is seen in relatively loose sand and soft clay.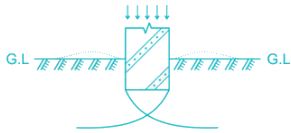 Some characteristics of local shear failure are:
1. Failure is not sudden and there is no tilting of footing.
2. Failure surface does not reach the ground surface and slight bulging of soil around the footing is observed
3. Failure surface is not well defined
4. Failure is progressive
5. In load-settlement curve, there is no well-defined peak
6. Failure is characterized by considerable settlement directly beneath the foundation
7. A significant compression of soil below the footing and partial development of plastic equilibrium is observed.
8. Well-defined wedge and slip surfaces only beneath the foundation.