Ideal Solution at Fixed Temperature
Consider two liquids 'B' and 'C' that form an ideal solution. We hold the temperature fixed at some value T that
is above the freezing points of 'B' and 'C'. We shall plot the system's pressure P against XB, the overall mole
fraction of B in the system :

Where

are the number of moles of B in the liquid and vapor phases, respectively. For a closed system XB is fixed, although

may vary.
Let the system be enclosed in a cylinder fitted with a piston and immersed in a constant-temperature bath. To see what the P-versus–XB phase diagram looks like, let us initially set the external pressure on the piston high enough for the system to be entirely liquid (point A in figure) As the pressure is lowered below that at A, the system eventually reaches a pressure where the liquid just begins to vaporizes (point D). At point D, the liquid has composition

at D is equal to the overall mole fraction XB since only an infinitesimal amount of liquid has vapourized. What is the composition of the first vapour that comes off ? Raoult's law,

relates the vapour-phase mole fractions to the liquid composition as follows :

............(1)
Where PB0 and PC0 are the vapour pressures of pure 'B' and pure 'C' at T, where the system's pressure P equals the sum PB + PC of the partial pressures, where

, and the vapour is assumed ideal.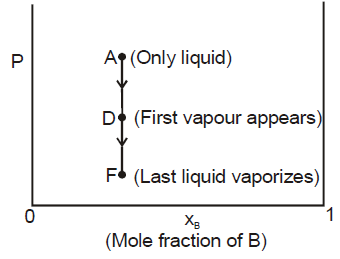 ............(2)
Let B be the more volatile component, meaning that

. Above equation then shows that


The vapour above an ideal solution is richer than the liquid in the more volatile component. Equations (1) and (2) apply at any pressure where liquid –vapour equilibrium exists, not just at point D.
Now let us isothermally lower the pressure below point D, causing more liquid to vaporize. Eventually, we
reach point F in figure , where the last drop of liquid vaporizes. Below F, we have only vapour. For any point
on the line between D and F liquid and vapour phases coexist in equilibrium.
Q. Two liquids A and B have the same molecular weight and form an ideal solution. The solution has a vapour pressure of 700 Torrs at 80ºC. It is distilled till 2/3rd of the solution (2/3rd moles out of total moles) is collected as condensate. The composition of the condensate is x'A = 0.75 and that of the residue is x''A= 0.30. If the vapour pressure of the residue at 80ºC is 600 Torrs, find the original composition of the liquid ?