ABIOTIC ENVIRONMENTAL FACTORS OF ECOSYSTEM
(A) Light
(B) Temperature
(C) Soil
(D) Other
LIGHT
It is a complex physical environmental factor. Light is measured by luxmeter or photometer. It is a electromagnetic spectrum.
Solar Constant –Solar radiation before entering the atmosphere carries energy at a constant rate i.e., 2 cal cm–2 min–1 known as the solar constant.
In solar radiation wavelength (l ) of light or visible spectrum is 0.4 to 0.7 mm(400–700 nm) it is also called photosynthetically active radiation (PAR).
The U. V. radiation distinguished in
U. V. – C →  (0.100 to 0.280 mm)
U. V. – B  →   (0.280 to 0.320 mm)
U. V. – A →   (0.320 to 0.400 mm)
Albido value – The ability of a surface to reflect the incoming radiation is called albido value (AV) it is 80% for fresh snow, 20-30% for sand, 5-10% for the forest.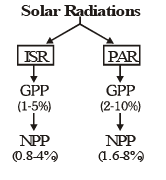 Effect of light – Photokinesis – Regulation of speed of locomotion due to light is called photokinesis e.g. larvae of mussel crab move faster if light intensity increases.
TEMPERATURE
Temperature is measured by the thermometer and under water by thermistor.
Effect of Temperature on plants – Temperature causes dessication (injury due to dehydration), chilling injury (injury of plant due to cold climate) andfreezing injury (injury to plant cell due to icecrystal formation in the intercellular spaces)
Effect of Temperature on animal – Temperature affect the absolute size of an animal and its body parts.
1. Bergman rule – Birds and mammals attain greater body size in cold region and lesser in warm region.
2. Allens rule – The tail, ears, limbs, eyes, snout and hair of mammals are smaller in colder region and larger in warm region.
3. Jorden's rule – Fishes in cold water possess more vertebrae than those living in warm water.
4. Gloger rule – Warm blooded animals in hot and humid area (tropical region) are more darker in colour (heavily pigmented) than cold area.
5. Renschs rule – Birds in cold region have narrow wings and in warm region have broader wings.
SOME EXAMPLES OF MIGRATION
Type of migration

Examples

Activities

long-distance

Arctic tern

• Nests close to north pole in summer. Elies from North (Arctic) to

Antarctica in autumn and returns to

North pole again each spring.

Short-distance

Caribou,

Elk and whale

• Migrates in search of food each winter to warmer place.

Periodic

locust (Tidbti.)

• large population migrate in search of feeding grounds.

Note : Thermal Migration – Thermal migration has been seen in birds (siberian cranes, arctic tern), mammals (Bison, caribou), fishes (salmon) etc.
Acclimatisation – Acclimatisation is a gradual physiological adjustment of the organism to the slowly changing new environmental condition. If there is a shift in some environmental factor beyond the tolerance range of an organism the latter can come to the resting stage or migrate.
Shelford law of tolerance – Every organism has minimum and maximum limit of tolerance (ecological amplitude) with respect to environmental factors like temperature, sunlight or nutrient concentration in between those limits the central optimum range are found in which organisms are abundant this is known as optimum zone of tolerance.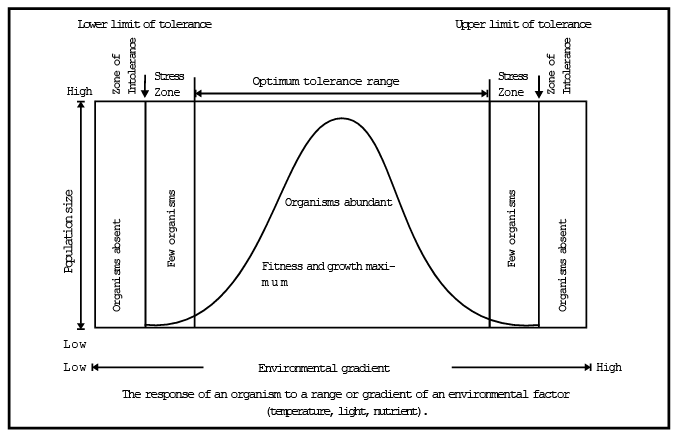 On the basis of temperature vegetation is divided into four groups l Megatherms – The plants growing in high temperature throughout the year e.g. Tropical rain forest
 Mesotherms – The plants growing in alternate high and low temperature e.g. Deciduous tropical forest

Microtherms – Plants growing in low temperature e.g. Coniferous forest

 Hekistotherms – Plant growing in very low temperature e.g. alpine vegetation On the basis of temperature animals divided into two groups
(1) Eurythermous or Homeo thermal/endo thermal/warm blooded – Animals which are able to tolerate wide variation of temperature e.g. birds, man, etc.
(2) Stenothermous or Poikilothermal/ecto thermal/cold blooded – Animals which are  unable to tolerate wide variation in temperature e.g. Arctic fishes Reptiles, Amphibians
Regulaters : Organisms who are able to maintain homeostasis by physiological some time behavioural also) means which ensures  constant body temperature, (thermoregulation) constant osmotic concentration (osmoregulation) eg. all birds and mammals.
Conformers : Organism who cannot maintain a constant internal environment means their body temperature or osmotic concentration change with external environment.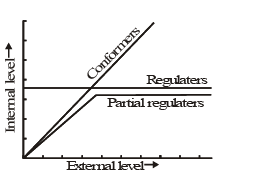 Note :If the stressful external condition are localised or remain only for a short duration the organism has two alternatives, to survive.
(i) Migration (ii) Suspension
THERMAL STRATIFICATION IN LAKES
Thermal stratification occurs in deep water body because of difference in temperature of water at different depth.
Mainly three layer or zone occurs in water below
1. Epilimnion – The top layer gains warmth.
2. Metalimnion/thermocline – Middle region steady decline in temperature or a gradual change in temperature.
3. Hypolimnion – Bottom which is not affected by temperature.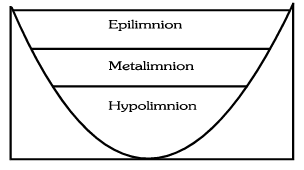 Difference in temperature of water at different depths results in thermal stratification in deep water bodies.
During summer, temperature is higher on the surface water, whereas in lower layer temperature is low.
During winter in a temperature lake, water is at freezing temperature on the surface, whereas in the lower layer temperature is about 4°C. The surface water is cooled during autumn, and warmed in spring. This results in a free mixing of water in the whole water body, also known as autumn and spring turnover.
During spring and autumn due to turnover of water oxygen and nutrients are redistributed, resulting in a bloom of phytoplankton growth while during winter and summer, growth of phytoplankton is low due to low nutrients and oxygen availability.


STUDY OF OCEAN ENVIRONMENT
All the ocean basins are roughly of the shape of a wash basin or an inverted hat.
 
Type I – On the basis of structure : From the coast line a gradually sloping region extends for about 160 km into the sea. This zone is called continental shelf and  has a depth of 8-200 meters. The angle of the slopes then abruptly steepens to form the continental slope. The continental slope levels off into a more or less horizontal ocean floor. The depth of the ocean floor is in the range of several thousand meters.
 
Type II – On the basis of availability of light : The vertical zones of the ocean are determined by the availability of light or penetration of light for photosynthesis that is
Photic or Euphotic zone – It is upper lighted zone up to a depth of about 200 meters.
Aphotic zone – Middle region where diffused light penetrate which is insufficient for photosynthesis, it extends up to the depth of 200-2000 meters.
Abyssal zone – It is deeper part where light do not reach below 2000 meter, is the area of perpetual darkenss.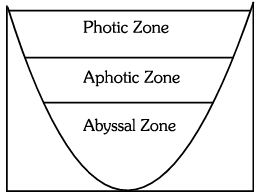 Type III – On the basis of environment : Three major environment may be recognised in the ocean basin.
The Littoral zone – Comprising the edge of the continental shelf.
The benthonic zone – Formed of sea floor along with the continental slope and the aphotic and abyssal zone.
The pelagic zone – Constituting the water of the ocean basin.
Note
The shallow shore region of a marine area is called neritic zone.
The part have been cut off from river is called ox-bow-lake
Estuaries - The region where, river enter the ocean are known as estuaries.