What is XAT Exam?
The Xavier Aptitude Test is an all-India test conducted by the Xavier Association of Management Institutes (XAMI) as an entrance exam for admission to the post-graduate programs in management courses of several management institutes all over India.
It is the Admission Test for admission to MBA/PGDM programs in XLRI and other top MBA colleges like SPJIMR Mumbai, IMT Ghaziabad, XIMB Bhubaneswar, TAPMI Manipal, and 160 other top MBA colleges in India. XLRI will offer admission on the basis of the XAT 2022 exam score only and will not accept any other test score. There are more than 70 cities and more than 100 venues where XAT 2022 exam will be conducted in India.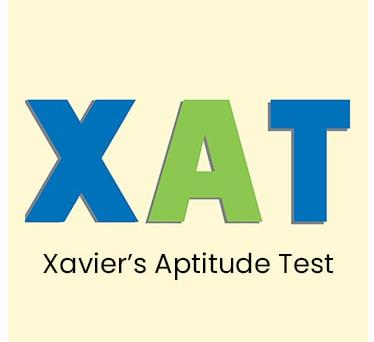 XAT Exam Highlights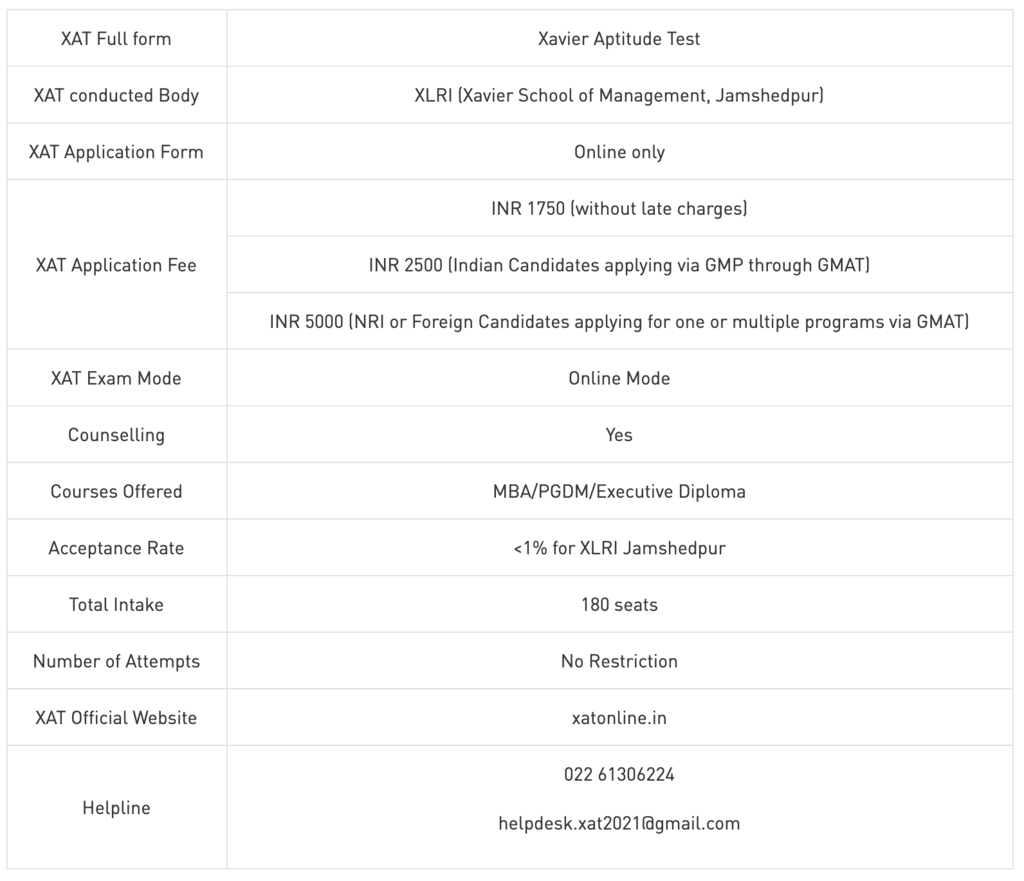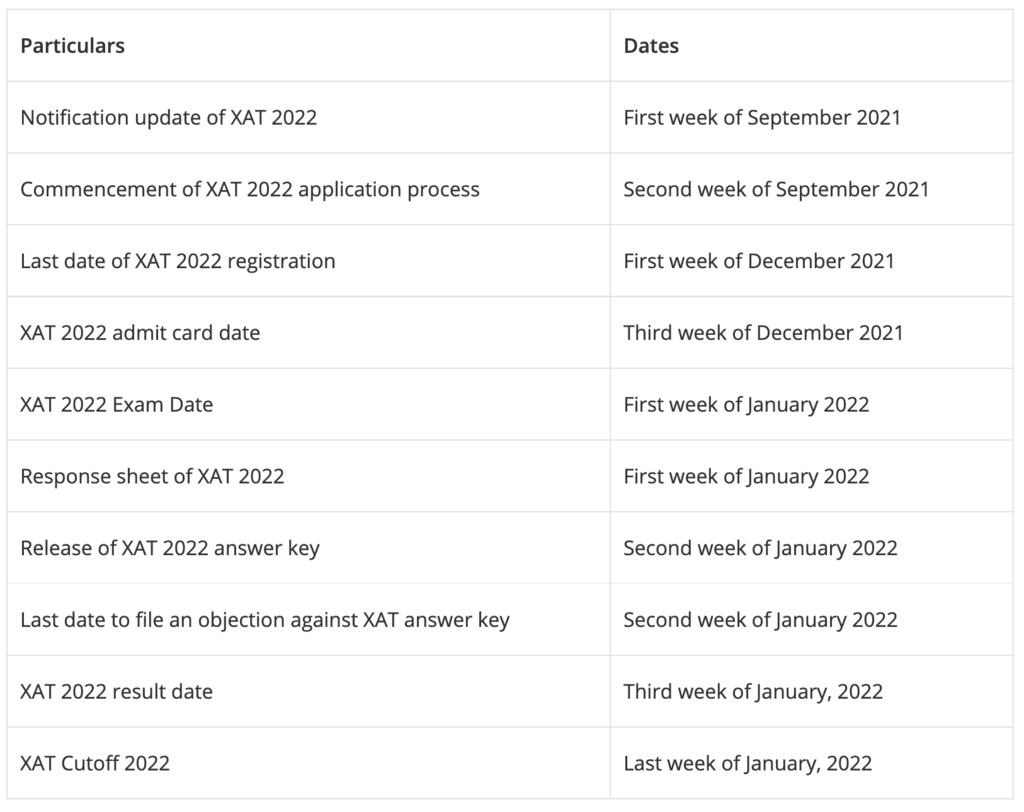 Key Changes in Test Pattern
Following changes have been introduced in XAT Exam by XLRI:
XAT 2022 application fee increased to Rs.1750/-
XAT exam 2022 is now changed to a computer-based test from a paper-based test
Single-slot, single-day exam
Test timing changed - 9.30 AM to 12.30 PM from 10 AM to 1 PM
Total questions increased to 100 from 99No Essay Writing test
NAT Questions without negative marking introduced
All questions are of MCQ type
Question paper with 4 sections with different number of questions
The last section on GK with 25 questions is not counted for percentile calculation
Visually impaired candidates with scribe are given additional 25 minutes to solve Part 1 of the exam
Marks for every correct answer: +1¼ Negative Marking for the wrong answer
No Negative marking for the General Knowledge section in part-2 of the question paper
All the MCQ type questions have five options with one correct option
Eligibility Criteria
Before filling the XAT application form, candidates are advised to go through the XAT 2022 eligibility criteria. Details pertaining to the educational qualification required marks, age limit, and related are mentioned under the XAT eligibility criteria 2022. XLRI Jamshedpur predefined the eligibility criteria which are given below.
The candidate must hold a Bachelor's degree of a minimum of three years duration or equivalent in any discipline from a recognized university
Students in their final year of Bachelor's degree or awaiting their results are also eligible to apply
There is no specific CGPA or percentage mentioned that has to be obtained in the graduation. No age limit has been specified to appear for XAT 2022.
Exam Structure
The exam consist of the following sections:
• Verbal and Logical Ability (VA & LR)
• Decision Making (DM)
• Quantitative Ability & Data Interpretation (QA & DI)
• General Knowledge (GK)
Section-wise XAT Syllabus 2022
Part 1
Section-1: Verbal Ability, Reading Comprehension & Logical Reasoning
Xavier Aptitude Test (XAT) exam Syllabus for Verbal Ability,
Reading Comprehension and Logical Reasoning section in XAT 2022 is divided in 3 parts.
The 1st part of the XAT 2022 syllabus covers questions based on Verbal Ability;
2nd part of the exam syllabus on the 1st section covers Reading Comprehension passages and
the 3rd part of the exam syllabus on the VARC & LR section is based on questions on different topics on Logical Reasoning.
Number of Questions: 26. The revamped pattern in XAT exam syllabus for VARC & LR section shows that there are 24 MCQs in this section of the XAT exam.


Section-2: Decision Making
XAT Syllabus on Decision Making is unique as neither CAT nor any other national level entrance exam has Decision Making as one of its exam sections.
Decision Making is the problem or case solving expertise of a candidate.
Number of Questions: 21


Section-3: Quantitative Ability & Data Interpretation
Syllabus of XAT exam 2022 for Quant and DI section is very wide.
QA & DI is the 3rd and last section in the revamped XAT exam pattern.
This section in XAT 2022 is taken into account for XAT percentile calculation.
Syllabus of XAT 2022 for Quant is vast and covers everything in Mathematics that you may or may not expect.
Number of Questions: 27


Part 2
Section-4: General Knowledge
XAT exam syllabus 2022 for second part in XAT exam consists of only one section- General Awareness (GK) which consists of MCQs.
The score in GK section will not be counted for XAT percentile calculation.
Number of Questions: 25

Exam Format
XAT is a paper-based aptitude test, followed by a subjective test on essay writing & general awareness.


XAT Application Form 2022
The application form of XAT 2022 will be released in the second week of September 2021 in an online mode. Eligible candidates will be able to fill XAT application form till the last week of December 2021.
The application fee of XAT last year was Rs. 1750. Some of the important steps to fill the XAT 2022 application form are given below:
Steps to fill XAT Application form 2022
Candidates can check the registration process of XAT 2022 in the steps given below:

Step 1: Visit the official website of XAT 2022
Step 2: Click on the 'Register' tab
Step 3: Create a new account using your email id wherein XAT ID and registration link will be sent
Step 4: Click on the XAT 2022 registration link to create XAT login password
Step 5: After logging in, the candidates have to choose the preferred exam city
Step 6: Enter the name, upload photographs, and signature (as per the size)
Step 7: Candidates will be sent two links to upload the photograph and signature. Click on the links, select the location and upload the documents
Step 8: Select citizenship
Step 9: Select Programme (Optional)
Step 10: Fill all the Preliminary and mandatory information
Step 11: Enter educational qualification and work experience details
Step 12: Pay the requisite application fee which is as follows:
Registration Fee


Online Payment Mode:
The application form is integrated with the payment gateway and the payment process can be completed by following the instructions.
The payment can be made by using Debit Cards (RuPay / Visa / Master Card / Maestro), Credit Cards and Internet Banking.
After submitting your payment information, Please wait for the intimation from the server. do not press back or refresh button in order to avoid double payment.
On successful completion of the transaction, an e-Receipt will be generated. Non-generation of 'E-Receipt' indicates PAYMENT FAILURE. On failure of payment, Candidates are advised to login again using their XAT ID and Password and repeat the process of payment.
Candidates are required to take a printout of the e-Receipt and online Application Form. Please note that if the same cannot be generated, online transactions may not have been successful.
To ensure the security of your data, please close the browser window once your transaction is completed.
Photograph & Signature scan and upload
Before applying online a candidate will be required to have a scanned (digital) image of his / her photograph and signature as per the specifications given on the official website.
• In case the face in the photograph or signature is unclear, the application may be rejected.
• Candidate may edit the application and re-upload the photograph/signature in such case.
XAT Admit Card 2022
XAT 2022 admit card will be released on the official website in the third week of December 2021.
XAT admit card 2022 includes all the details pertaining to the entrance test such as XAT exam center details, candidate's roll number, reporting time as well as exam day guidelines.
Candidates can download the admit card for XAT 2022 after entering their registered email ID and password. It is mandatory for the candidates to carry the XAT 2022 admit card to the exam centre.
The officials will not entertain candidates who do not bring the admit card along with other necessary documents.
Steps to download the admit card of XAT 2022
Step 1: Visit the official website of XAT 2022
Step 2: Click on the 'Download admit card' tab and enter the login details
Step 3: XAT 2022 admit card will be shown on the screen
Step 4: Check if any discrepancy is found. If not, click on the 'Download Admit Card' tab
Step 5: Take a printout of the admit card for future use.
XAT Result 2022
XLRI Jamshedpur will release the result of XAT in the third week of January 2022 in online mode.
Candidates can check their XAT result using their login credentials on the official website of XAT for XLRI, Jamshedpur.
XAT 2022 scorecard has the sectional, as well as the overall percentile.
Following the XAT 2022 result announcement, admission cut offs will be released and the shortlisting process will begin.
How to check the result of XAT 2022?
The detailed step by step process to check the result is given below,
Go to the XAT official website - xatonline.in
Click on the login tab on the page.
Type the registered email and Password.
Click on the "Scorecard" button.
The result will appear on the screen
Download and take two or three printouts of the same.
XAT Answer Key 2022
XLRI Jamshedpur will release the XAT answer key in the second week of January 2022 in an online mode. Along with the XAT 2022 answer key, the response sheet will also be released.
With the help of the XAT response sheet, candidates can know about the number of correct and incorrect questions attempted by them. Also, they can estimate their score of XAT 2022 before the announcement of the actual result.
The objection window to challenge the XAT answer key will also be opened in the second week of January 2022. After analyzing the objections raised by the aspirants, XLRI will then release the final XAT 2022 answer key in the second week of January 2022.
How to download XAT 2022 answer key?
Step 1: First, visit the official website of XAT - xatonline.in
Step 2: Then click the "Candidate Response Link" tab at the top of the webpage.
Step 3: It will redirect the candidates to the XAT login page. From there, enter the required XAT ID and date of birth.
Step 4: The page will take the candidate to the dashboard.
Step 5: In the dashboard, click the "Download Answer Key" button.
Step 6: Finally, your required XAT exam answer key will download automatically in as pdf format.
XAT Cutoff 2022
XAT cut offs for 2022 admission will be released by XLRI Jamshedpur.
The XAT cutoff for the previous year was 94 for Business Management (BM) programme for male students and for Human Resource Management (HRM) programme for male engineering students was 93. For female students XAT 2021 cut off percentile for BM was 92 and HRM was 87.
The institute will begin the shortlisting process for Group Discussion (GD) and Personal Interview (PI) after the declaration of XAT cutoff 2022. Candidates who meet the XAT cut off 2022 will be shortlisted for GD/PI round of XLRI admission.
XAT Counselling 2022
Candidates who will qualify the XAT cutoff will have to take part in XAT 2022 counseling.
In order to participate in XAT counselling, they will have to first register for the counselling process by entering the login credentials on the official website after which they are required to pay the respective counselling fee.
More than 160 institutes will participate in the XAT 2022 counselling process.
Check the XAT counseling process and the steps for registration for the same:
Step 1: Visit the official website of XAT
Step 2: Enter the credentials and log in
Step 3: Make the necessary fee payment
Step 4: After the registration is done, the candidates have to choose and lock their preferred programme in the institute
Step 5: The final allotment of seats will be done on the basis of the candidates' choice filling and locking.
XAT Selection Procedure 2022
The XAT 2022 selection procedure varies as per the participating institutes. More than 160 participating institutes will use the XAT score for their admission process.
Usually, the selection procedure of XAT 2022 consists of two steps; Group Discussion and Personal Interview. Institutes accepting XAT score for admission to their MBA/PGDM programme, conduct their own application and admission process.
While some institutes open their registration window much before the XAT exam is conducted, others start their registration process after the XAT result is announced.
The group discussion and personal interview is conducted to check the candidates' overall abilities.
XAT Associates
XAT scores will be used by XAT Associate Members for admission to their institute.
The candidate desirous of joining any of XAT Associate Institutes has to follow the steps given below:
Register for XAT 2022 at xatonline.in and make XAT payment.
Candidates interested in applying to XLRI and other XAT Associate Institutes may obtain details from the respective Institute's website. Check their registration/application procedure.
Candidates may please note that XLRI does not ascertain the quality of the degree or program (s) offered by XAT Associate Institutes.
Please note that each institute independently decides the weightages to be given for each of the test components on the basis of its needs. XLRI does not play any role in the selection of candidates in these institutes.
Note:

All payments made for registration for XAT and XLRI are non-refundable.
The XAT Score Card containing the performance of the candidate in XAT 2022 can be downloaded.
Complete detail of XAT members and Institutes using XAT scores is given on its officail website.
Official Website: www.xatonline.net.in
Frequently Asked Questions

Q 1: For how many times is XAT held in one year?
XAT exam is held annually on the first Sunday of January. In 2022, XAT will be held most likely on January 2 from 9:30 AM to 12:30 PM.
Q 2: When will XAT 2022 dates be announced?
XLRI Jamshedpur is expected to announce XAT 2022 exam date and schedule of related events in the second week of September. The XAT 2022 notification will be released on the institute website.
Q 3: When will XAT 2022 result be announced?
XAT 2022 result will be announced in the third week of January on the official website. After the result shortlisting for GD/PI will begin.
Q 4: How many times can one attempt XAT exam?
XAT is conducted annually, so the opportunity to appear for it in a particular academic year is only once. However, one can attempt XAT exam any number of times, year on year. There is no restriction on number of attempts.
Q 5: How many candidates appear for XAT on average?

About 95,000 candidates appear for XAT every year. Students from diverse fields and academic backgrounds appear for XAT to pursue MBA course at top B-Schools in India.
Q 6: Is XAT tougher than CAT?
XAT and CAT both are tough in comparison to other MBA entrance exams. However, presence of Decision Making and GK sections and absence of onscreen calculator makes XAT tougher than CAT.
Q 7: Do XAT cut-offs differ for different courses of XLRI?

Yes, admission cut offs for various PGDM courses of XLRI are different. Check previous year's course wise XAT cut offs here.
Q 8: In how many months can I prepare for XAT 2022?
Ideal preparation time for XAT exam is six to nine months. However, candidates must make their own exam preparation strategy according to their strengths and weaknesses.
Q 9: Will there be any sectional time limit in XAT 2022 exam?
Yes, XAT exam has sectional time limit. Part 1 of the question paper is to be completed within 165 minutes and Part 2 is to be completed within 15 minutes. However, it is advised that candidate's time themselves in order to complete the test on time.
Q 10: Will I get access to an on-screen calculator during XAT exam 2022?
Yes, the candidates will be given access to an on-screen calculator. The candidates will also be given paper sheets for rough work and calculations.
Q 11: I am in my second year of Graduation. Can I apply for XAT 2022?
No. Only those who have either completed graduation or are in the final year of graduation can apply for XAT 2022.
Q 12: What are the scholarship schemes in XLRI, Jamshedpur?

XLRI Jamshedpur offers various scholarships to meritorious and economically backward students. The list of scholarships offered last year is given below: