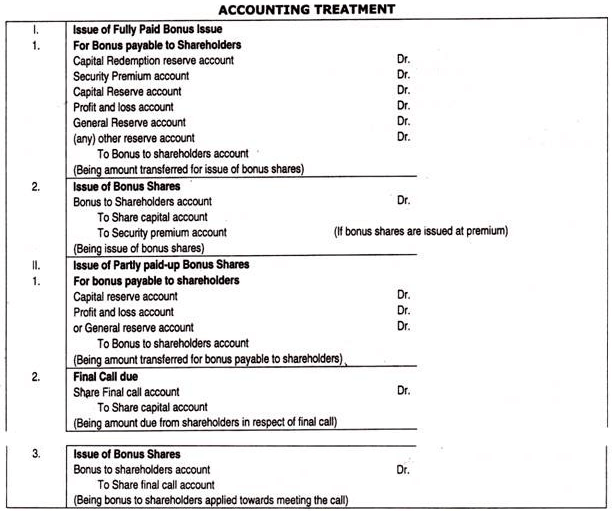 The above entries make it clear that issue of bonus shares results in addition to share capital, of the company, but shareholder's fund remains unchanged, because reserves are decreased by a corresponding amount. After bonus issue, other things remaining the same, the price of the shares will come down the total value of shares held by a shareholder will remain unaltered.
The issue of bonus shares can be profitable to the shareholders if the company maintains the rate of dividend per share after the issue of bonus shares as before. After the issue of bonus shares, shareholders will start getting more dividend as they are in possession of increased number of shares.
The imbalance between the lower amount of paid up capital and higher amount of net worth which is on account of accumulated reserves can be corrected by capitalizing reserves by issuing bonus shares. By the issue bonus shares the paid-up share capital will increase and will become representative capital in relation to the earning capacity. It will curb speculation in the prices of shares and as a result prices of shares of the company will stabilize.
Illustration:
The following are extracts from the Balance Sheet of Arihant Silk Ltd. as on December 31, 2008

A resolution was passed to issue 800 bonus shares of Rs. 10 each by providing Rs. 4,000 out of the P & L account and the balance out of the reserve fund.
Set out journal entries to give effect to the resolution and show how they would affect the balance sheet. (A.C.S., June 79)