Appointments & Resigns
Moutaz Mousa Abdallah elected Sudan's new Prime Minister
On September 17, 2018, Moutaz Mousa Abdallah has become the Sudan's new Prime Minister.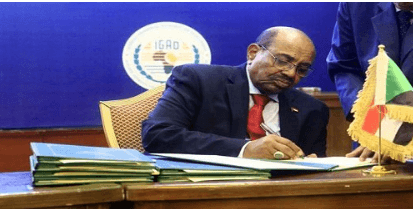 i. He will hold the finance portfolio of the country.
ii. Additionally, a 21-member cabinet was sworn in at the presidential palace in Khartoum.
Sudan:
♦ Capital: Khartoum.
♦ Currency: Sudanese pound.
Motilal Oswal appointed Sanjay Athalye as new CEO for Aspire Home Finance
On September 17, 2018, Motilal Oswal Financial Services Ltd. appointed Sanjay Athalye as the new Managing Director and Chief Executive Officerof its housing finance company Aspire Home Finance Corporation Ltd (AHFCL).
i. Prior to joining AHFCL, he has worked with Indostar Capital Finance Ltd as Chief Risk Officer.
ii. He had previously worked in several leadership roles with Reliance Capital, Centurion Bank of Punjab, IDBI Bank, ICICI Bank, Reliance Telecom and Modi Xerox.
iii. Athalye holds a master's degree in commerce from Nagpur University.
Prashant Kumar appointed as CFO of SBI
On September 17, 2018, State Bank of India appointed Prashant Kumar as the Chief Financial Officer (CFO) of the Bank.
i. He replaced Anshula Kant who has been promoted as Managing Director of SBI.
ii. Prior to this appointment, Kumar was designated as Deputy Managing Director (HR) & Corporate Development Officer of SBI.
iii. Earlier he has worked as DMD and Chief Operating Officer (COO) of the Bank.
SBI:
♦ Headquarters: Mumbai.
♦ Chairman: Rajnish Kumar.
♦ Tagline: With you all the way, Pure Banking Nothing Else, The Nation's banks on us.
Science & Technology
ISRO's PSLV-C-42 launched two U.K. satellites NovaSAR and S1-4
On September 16, 2018, ISRO launched its first night flight launch of PSLV-C-42 with two U.K. satellites named NovaSAR and S1-4 of Surrey Satellite Technology Limited.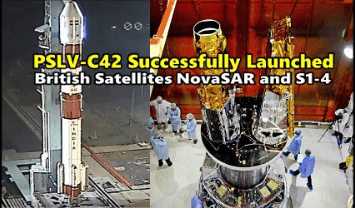 i. This launch was a collaboration between Surrey Satellite Technologies Limited and Antrix Corporation Limited, ISRO's commercial arm which earned Rs.220 crore for this launch.
ii. This mission made India launch 239 foreign satellites of 28 nations so far.
iii. It also marks the 44th launch of the Indian rocket the Polar Satellite Launch Vehicle (PSLV) .
About the Satellites:
i. NovaSAR carries S-band Synthetic Aperture Radar (SAR) and an Automatic Identification Receiver payloads.
ii. This would help in:
Forestry mapping,
Land use and ice cover monitoring,
Flood and disaster monitoring and
Maritime missions.
iii. It will be operated from SSTL's Spacecraft Operations Centre in Guildford, UK.
iv. S1-4 is a high resolution earth observation satellite meant for surveying resources, environment monitoring, urban management and disaster monitoring.
Other news:
i. ISRO announced to have 18 missions in the next six months, virtually one launch every two weeks.
ii. It would consist of: 10 satellite missions and 8 launch vehicle missions.
Background
India is seeking a larger share of the more than $300 billion global space industry.
UK:
♦ Capital: London.
♦ Currency: Pound Sterling.
Isro unveils Polarimetry Doppler Weather Radar at Sriharikota spaceport
On September 16, 2018, Dr. K Sivan, Secretary, DOS/Chairman, ISRO inaugurated an S–band Polarimetry Doppler Weather Radar at SDSC/ISRO,Sriharikota
i. This is the 7th Radar manufactured in the country under "Make in India" Concept.
ii. It was indigenously developed by Bharat Electronics Limited, Bangalore under Technology Transfer from ISRO.
iii. It will be used for the observation of the weather system up to a range of 500 km and helps in early warning of severe weather events.
iv. It would also provide detailed information on a storm's internal wind flow and structure.
ISRO and CNES of France plan constellation of 8-10 satellites for maritime surveillance: CNES
On September 17, 2018, India and France inked pact for maritime surveillance through a constellation of 8-10 satellites on the Indian Oceanregion.
This will be India's largest space cooperation with any country.
Objective:
To monitor sea traffic management.
Key Points:
i. This will be developed by the ISRO and French space agency CNES.
ii. It would take less than five years to launch the satellites.
iii. The mission would include:
Design and development of joint products
Techniques including those involving Automatic Identification System,
To monitor and protect assets in land and sea.
Other projects between ISRO and CNES include:
i. MOU to share expertise on ISRO's human mission programme Gaganyaan.
ii. The joint missions Megha-Tropiques (launched in 2011) and Saral-Altika (launched in 2013).
iii. Trishna satellite for land Infrared monitoring and the Oceansat3-Argos mission.
iv. The Indian space agency's two major missions on inter-planetary missions to Mars and Venus.
Participation of CNES with other countries:
i. CNES is currently working with Japan Aerospace Exploration Agency (JAXA) and German space agency DLR on Hayabusa 2/ MASCOT, a mission to asteroid Ryugu.
ii. Curiosity Rover (NASA) on Mars developed by CNES.
iii. CNES has also scheduled Mission BepiColombo to Mercury.
CNES:
Headquarters: Paris, France.
MPATGM: man-portable anti-tank guided missile successfully tested by DRDO
On September 16, 2018, the Defence Research and Development Organisation successfully tested a low-weight indigenously developed man-portable anti-tank guided missile (MPATGM) at its Ahmednagar range.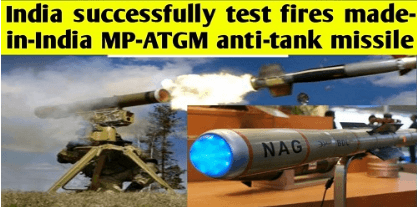 i. It was the second MPATGM test as the DRDO tested the first one on September 15 in Maharashtra.
About man-portable anti-tank guided missile (MPATGM):
i. MPATGM is yet to get a formal name and is a major boost to the Make-in-India initiative.
ii. The key features are:
A strike range of 2.5km,
Weight of 14.5 kgs,
Effective against both stationary and moving target and
Can be used in day and night.
iii. It is expected to replace others which are in service with the Army namely:
Second generation French origin anti-tank guided missile Milan and
Soviet semi-automatic wire-guided missile Konkur.
iv. The missile will be deployed in the infantry and parachute battalions of the Indian Army.
DRDO:
♦ Headquarters: New Delhi.
♦ Founded:1958.
♦ Defence Minister: Smt. Nirmala Sitharaman.
♦ Minister of State for Defence : Dr.Subhash Bhamre.
♦ Defence Secretary and Chairman of DRDO: Dr. G. Satheesh Reddy.