Uses of Classification Data
Vehicle classification data are of considerable use to agencies involved in almost all aspects of transportation planning and engineering. The need for information on truck volumes and freight movements is growing with the recognition of role that freight mobility plays in the economy, and as highway engineers realize the importance of truck volume and operating characteristics on the geometric and structural design of roadways and bridges.
1. pavement design
2. pavement management
3. scheduling the resurfacing, reconditioning, and reconstruction of highways
4. prediction and planning for commodity flows and freight movements
5. development of weight enforcement strategies 6. vehicle crash record analysis 7. environmental impact analysis 8. analysis of alternative highway regulatory and investment policies.
Vehicle Occupancy
Vehicle occupancy measurement is an important part of transportation congestion management and it is used for evaluating the efficiency of road system, High Occupancy Vehicle (HOV) lanes or particular congestion reduction programs. The measure occupancy is a function of speed and length of individual vehicle and thus, it could consider the effects of varying vehicle length and speed. Hence, it can be considered as a logical substitute of density. In other words, occupancy, based on practical consideration, is defined as the percentage of time the detection zone is occupied by the vehicles. Therefore, occupancy measured using detectors depends on the length of detection zone, each detector type has a differing zone of influence (detector length) and the zone of influence is effectively added to vehicle length. Hence, the measured occupancy may be different for different detection zones even for the same site having identical traffic, depending on the size and nature of the detectors. Development of intelligent systems that extract traffic density and vehicle classification information from traffic surveillance systems is crucial in traffic management. It is important to know the traffic density of the roads real time especially in HOV lanes for effective traffic management. Time estimation of reaching from one location to another and recommendation of different route alternatives using real time traffic density information are very valuable for metropolitan city residents.
Travel Time
Travel time can be defined as the period of time to transverse a route between any two points of interest. It is a fundamental measure in transportation. Travel time is also one of the most readily understood and communicated measure indices used by a wide variety of users, including transportation engineers, planners, and consumers. Travel time data is useful for a wide range of transportation analyses including congestion management, transportation planning, and traveler information. Congestion management systems commonly use travel time-based performance measures to evaluate and monitor traffic congestion. In addition, some metropolitan areas provide real-time travel time prediction as part of their advanced traveler information systems (ATIS). Travel time data can be obtained through a number of methods. Some of the methods involve direct measures of travel times along with test vehicles, license plate matching technique, and ITS probe vehicles. Additionally, various sensors (e.g. inductance loop detectors, acoustic sensors) in ITS deployment collect a large amount of traffic data every day, especially in metropolitan areas. Such data can be used for travel time estimation for extensive applications when direct measurements of travel times are not available.
Delay
The delay defines as "The additional travel time experienced by a driver, passenger, or pedestrian". Delay is thus the difference between an "ideal" travel time and "actual" travel time. Since the definition of delay depends on a hypothetical "ideal travel time", delay is not always directly measurable in the field. If the ideal travel time is defined as off-peak travel time, then the measured delay is difference between the actual measured travel time during peak period, and the actual measured travel time during off-peak period. If the ideal travel time is defined as travel at the posted speed limit, then the delay cannot be directly measured in the field. It is estimated by subtracting the hypothetical travel time at the posted speed limit from the measured mean travel time in the field.
Detector technology
General
In traffic detector information is derived from technologies divided into two main groups, information collected via in-situ detectors, deployed at location of interests, or information from mobile technologies that are located within vehicles themselves. Over the last two decades, there has been an increase in the provision of services that are specific to vehicle types, as well as fleet or asset management and tracking, based on in-vehicle technologies. In-vehicle technologies have really come into realization through the advantage of satellite-based technologies, and are perceived as playing an increasing role in the future.Such technologies not only improve our ability to manage networks efficiently, but will also have a direct impact of the types of policy instruments available to authorities, the operation of so-called ITS.
In-Situ Technologies
In-situ traffic detector technologies are further divided into two categories: Intrusive technologies that are physically mounted at, or below, the road surface, installation of which causes potential disruption to traffic. Conversely, non-intrusive technologies are mounted at, or above the road surface, and their installation causes little or no disruption to traffic. Detectors of both types temporary or permanent nature, though sub-surface intrusive installations are, by necessity, usually permanent. All in-situ detectors will provide some measure of the volume of vehicle flow. Particular detector technologies will vary as to their reliability of the flow estimate, and their ability to provide accurate additional information on vehicle category or speed. A single sensor gives only flow or occupancy information. Two adjacent sensors are required for speed or classification assessment. The time-lag and separation distance between the onset of consecutive events at the sensors have been used to estimate vehicle speed. Classification information is derived either from vehicle length or through examination of the form of the profile generated as output from the sensor.
Intrusive Technologies
Typical examples of intrusive technologies, their sensor types and installation locations are shown in Fig. 8:1. The first types of units (Fig. 8:1, Type 1) are passive magnetic or magnetometer sensors that are either permanently mounted within holes in the road, or affixed to the road surface in some fashion. The unit communicates to a nearby base station processing unit using either wires buried in the road, or wireless communications. The sensor has a circular or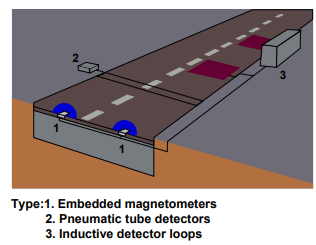 Figure 8:1: Typical intrusive detector configurations, Source: IMAGINE- Collection Methods for Additional Data
elliptically offset zone of detection (i.e., the blue area).
The second types of units (Fig. 8:1, Type 2) use pneumatic tubes that are stretched across the carriageway and affixed at the kerb side at both ends. Such systems are only be deployed on a temporary basis, due to the fragile nature of tubes, which are easily damaged or torn up by heavy or fast moving vehicles.
The third type (Fig. 8:1, Type 3) are inductive detector loops (IDL), consisting of coated wire coils buried in grooves cut in the road surface, sealed over with bituminous filler. A cable buried with the loop sends data to a roadside processing unit. The zone of detection for inductive loop sensors depends on the cut shape of the loop slots. The zones depending on the overall sensitivity of system not correspond precisely to the slot dimensions. IDLs are a cheap and mature technology. They are installed on both major roads and within urban areas, forming the backbone detector network for most traffic control systems.
The fourth type of intrusive system is Weigh-In-Motion (WIM) shown in Fig. 8:2, detectors that consist of a piezoelectric sensor (e.g. 'bending-plate' or fiber-optic) system laid in a channel across the road. These systems are relatively rare and are used in specific locations for enforcement or access control. They are usually coupled with other systems, either intrusive or non-intrusive, to provide additional cross-checks on collected data.
1. Pneumatic Tube Detector Pneumatic road tube sensors send a burst of air pressure along a rubber tube when a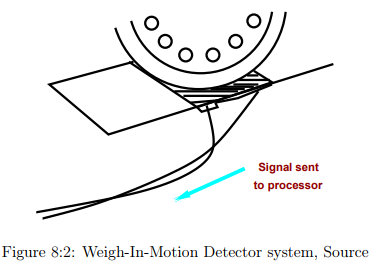 vehicles tire passes over the tube. The pulse of air pressure closes an air switch, producing an electrical signal that is transmitted to a counter or analysis software. The pneumatic road tube sensor is portable, using lead-acid, gel, or other rechargeable batteries as a power source. The road tube is installed perpendicular to the traffic flow direction and is commonly used for short-term traffic counting, vehicle classification by axle count and spacing. Some data to calculate vehicle gaps, intersection stop delay, stop sign delay, and saturation flow rate, spot speed as a function of vehicle class, and travel time when the counter is utilized in conjunction with a vehicle transmission sensor.
Advantages
(a) Cheap and self-contained, the easiest to deploy of all intrusive systems, recognized technology with acceptable accuracy for strategic traffic modeling purposes, hence very widely used.
(b) Axle-based classification appears attractive, given sub-vehicle categories are partially axle based.
Disadvantages
(a) Some units are not counted or classify vehicles.
(b) Tube installations are not durable, the life of tubes are less than one month only.

(c) The tube detectors are not suitable for high flow and high speed roads.
(d) Units should not be positioned where there is the possibility of vehicles parking on the tube.
(e) It cant detect the two wheelers.