AWARDS & RECOGNITION
President of India Presents National Geoscience Awards
On 16th May, the President of India Mr. Ram Nath Kovind, presented the National Geoscience Award in New Delhi.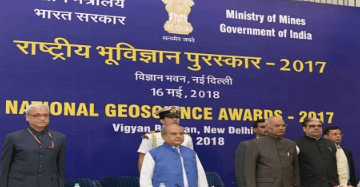 Key Points:
i. After the commencement of the programme the President praised the geoscientists saying that with their deep understanding of landform dynamics, geoscientists have an important role to play in enhancing agricultural productivity and farmer incomes; in providing a bedrock to the Smart Cities initiative; and in helping our fellow citizens fight the challenge of water scarcityas well.
ii. He further said that India being one of the fastest growing major economies in the world. The mining and mineral sector contributes a considerable part of the GDP.It varies from 2.2% to 2.5%only but going by the GDP of the total industrial sector it contributes around 10% to 11%.
iii. To expand this sector high-quality research initiatives for sustainable, ecologically-friendly resource generation – and meaningful investment in technological innovation in the mining sector.
iv. With different reforms being taken in this sector .Steps taken by the Ministry of Mines have led to identification of promising mineral blocks in states for auction. It is local communities that must benefit from the discovery, extraction and development of mineral resources.
About National Geoscience Awards :
The award was instituted in 1966 and is an incentive of the Ministry of Mines, Government of India conducted annually . it is a means to encourage geoscientists for their contribution in the field. It consists of 3 awards: i. National Geoscience Award for Excellence: consists of cash prize of Rs. 5,00,000 and a certification ,ii. National Geoscience Awards : 19 awards are given in this category each carrying a cash prize of Rs. 3,00,000 and a certification, iii. Young Scientist Award : consists of a cash prize of Rs.1,00,000 and a certificate.
APPOINTMENTS & RESIGNS
Gujarat Governor to hold additional charge of MP
On May 15, 2018, Gujarat Governor Om Prakash Kohli was given the additional charge of Madhya Pradesh as the incumbent Governor, Anandiben Patel is on leave.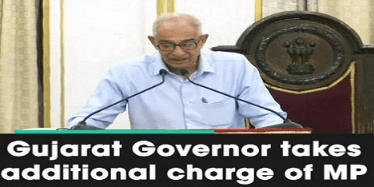 i. In the past, Mr. Kohli held the additional charge of the office of Governor of Madhya Pradesh from 8th September 2016 to 19th January 2018.
ii. In January 2018, Anandiben, became the Governor of Madhya Pradesh.
Quick Facts about Madhya Pradesh:
♦ Capital – Bhopal
♦ Current Chief Minister – Shivraj Singh Chouhan
♦ Important National Park – Bandhavgarh National Park
Sr lawyer Mukul Rohatgi appointed as eminent jurist in Lokpal panel: Govt
On 15th May 2018, the Central Government told the Supreme Court that Mukul Rohatgi was appointed as an eminent jurist in the selection committee for appointment of the Lokpal.
Mukul Rohatgi appointed as eminent jurist in Lokpal panel:
i. Decision was taken on 11th May 2018 to appoint senior advocate Mukul Rohatgi as an eminent jurist in the selection committee, which is chaired by the Prime Minister.
ii. Mukul Rohatgi was appointed as Attorney General of India in May 2014. He resigned from the position in June 2017.
About Supreme Court of India:
♦ Chief Justice of India – Justice Dipak Misra
♦ Location – New Delhi
Shashank Manohar elected unopposed, to serve 2nd term as ICC chairman
Shashank Manohar has been elected for a second term as the independent chairman of the International Cricket Council (ICC).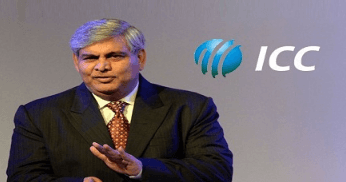 Shashank Manohar – 2nd term as ICC chairman:
i. Shashank Manohar was elected unopposed as ICC chairman as he was the only nominee named by the ICC Board.
ii. Each of the ICC directors were allowed to nominate one candidate, who had to be either a present or a past ICC director. Shashank Manohar became the first independent ICC chairman in 2016.
About International Cricket Council (ICC):
♦ Purpose – global governing body for cricket
♦ Headquarters‎: ‎Dubai, United Arab Emirates