APPOINTMENTS & RESIGNS
Ibrahim Boubacar Keita re-elected Mali president
On 16th August 2018, Ibrahim Boubacar Keita was re-elected as president of Mali.
Ibrahim Boubacar Keita – President of Mali:
i. Ibrahim Boubacar Keita won 67 percent of the vote and defeated his opponent Soumaila Cisse in the presidential election.
ii. Ibrahim Boubacar Keita will serve his second five-year term as President of Mali. He is 73 years old. He will assume office on 4th September 2018.
About Mali:
♦ Capital – Bamako
♦ Currency – West African CFA franc
♦ Prime Minister – Soumeylou Boubèye Maïga
♦ Official language – French
Mario Abdo Benítez sworn in as new President of Paraguay
On August 16, 2018, 46-year-old Mario Abdo Benítez has been sworn in as the new President of Paraguay.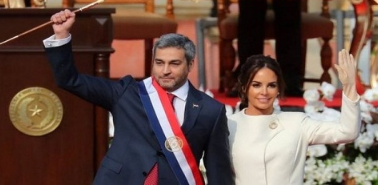 i. He replaced Horacio Cartes.
ii. He belongs to the conservative Colorado Party.
Paraguay:
♦ Capital: Asuncion.
♦ Currency: Paraguayan guarani.
Egon Zehnder International appointed 'Knowledge Partner' to Banks Board Bureau (BBB)
Indian Banks' Association has appointed Egon Zehnder International as a 'Knowledge Partner' to the Banks Board Bureau (BBB).
Egon Zehnder International – 'Knowledge Partner' to BBB:
i. As a Knowledge Partner, Egon Zehnder International will help to design, implement and institutionalise a flagship leadership development strategy for public sector banks in India.
ii. Also, Hay Consultants Private Limited, a part of Korn Ferry Group, will help BBB to assess leadership competencies and potential capabilities of candidates appearing for appointment as wholetime directors of public sector banks.
About Banks Board Bureau (BBB):
♦ Chairman – Bhanu Pratap Sharma
♦ Location – Mumbai
N Raghuram Elected Chair of International Nitrogen Initiative (INI)
N Raghuram has been elected the Chair of the International Nitrogen Initiative (INI), a global policy making initiative.
N Raghuram – Chair of INI:
i. N Raghuram is an Indian scientist and academician. He is a professor at the GGS Indraprastha University, New Delhi.
ii. He has been the President of the Indian Nitrogen Group and a Steering Committee member of the UNEP Global Partnership on Nutrient Management.
iii. He is the first Indian and Asian to be elected as Chair of INI. He will succeed Mark Sutton as chair of INI.
iv. David Kanter of the New York University has been elected as Vice-Chair of INI.
v. N Raghuram and David Kanter will take charge on 1st January 2019. They will be responsible for the network of 6 regional centres: Africa, East Asia, South Asia, Europe, Latin America, North America.
3 new independent directors appointed to the board of Nitstone Finserv
On August 16, 2018, Nitstone Finserv, a digital lending platform got approval to start operations of NBFC Business in India.
3 new independent Directors to the Board of Directors has been appointed.
i.They are:
Thomas T. Riley,
Alok Kumar Misra and
Vishwanath Prasad Singh.
ii.Thomas T. Riley is a former United States Ambassador, for 5 years worked with George W Bush Government.
iii.Alok Kumar Misra is a Former Chairman and Managing Director at Bank of India.
iv.Vishwanath Prasad Singh is a Former Chairman & CEO of IFCI Ltd. and a non-executive Chairman of Tourism Finance Corporation of India and IDBI Capital Market Services Ltd.
About itstone Finserv:
♦ It gives Small Business Loans, Vehicle Loans and Refinancing Education Loans.
♦ Headquarters: Bengaluru.
K S Srinivas appointed as Chairman of Marine Products Export Development Authority.
On August 14, 2018, IAS officer K S Srinivas has been appointed as the Chairman of Marine Products Export Development Authority (MPEDA)under Union Commerce Ministry.
i. He assumed his charge on August 13, 2018.
ii. He had served as Joint Secretary in the Department of Agriculture Cooperation and Farmers' Welfare in the Ministry of Agriculture.
Marine Products Export Development Authority (MPEDA):
♦ Headquarters: Kochi, Kerela.
♦ Established : 1972.
♦ It acts as coordinating agency with different Central and State Government establishments engaged in fishery production and allied activities.