Awards & Recognitions
Olympic gymnast Dipa karamakar conferred with D.Litt. degree from NIT Agartala
India's gymnastic star Dipa Karmakar, who finished fourth in the final round of the women's vault event at the Rio Olympics Games in Brazil last year,was on Saturday i.e. on 11th Nov 2017, conferred a D.Litt. degree by the National Institute of Technology (NIT), Agartala.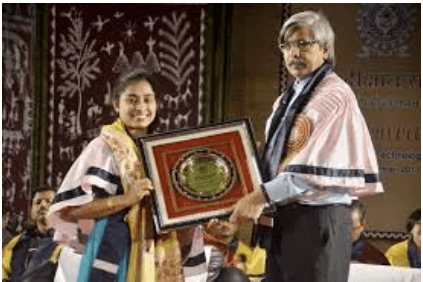 i. The convocation ceremony was held at Rabindra Shatabarshiki Bhawan in Agartala. Former IIT-Delhi Director and incumbent chairman of the National Board of Accreditation (NBA), Surendra Prasad was present as the Chief Guest along with other dignitaries on this occasion.
ii. Besides Dipa, the NIT also conferred D.Sc. degree upon IIT Guwahati Director Goutam Biswas and Jadavpur University professor Biswajit Ghosh at its tenth convocation held on Saturday.
iii. Degrees were given to 950 students and 31 Ph.D scholars. 20 students were also given gold medals in various academic branches of the institute.
iv. The NIT honoured Bollywood actor Nana Patekar with a D.Litt. degree and Governor Tathagata Roy with D.Eng at last year's convocation.
Dipa is now preparing for the 18th Asian Gamesin Indonesia's Jakarta and 21st Commonwealth Games to be held in Australia's Gol
Appointments & Resigns
Hyderabad Police Commissioner M. Mahender Reddy was appointed Director-General of Police (DGP) of Telangana
On 10th November 2017, Hyderabad Police Commissioner M. Mahender Reddy was appointed as Director-General of Police (DGP) of Telangana.
Mahender Reddy – DGP of Telangana:
i. M. Mahender Reddy has become the second DGP of Telangana. He has succeeded Anurag Sharma who superannuated on 11th November 2017. M. Mahender Reddy assumed charge on 12th November 2017.
ii. Anurag Sharma has been appointed as advisor to the Home department. Hyderabad police Additional Commissioner (law and order) V.V. Srinivasa Rao will be in-charge Hyderabad Police Commissioner.
iii. Mahender Reddy served as Assistant SP of Godavarikhani in Karimnagar and Guntur town, Additional SP of Bellampally in Adilabad and SP of Nizamabad and Kurnool districts. He was East zone DCP in Hyderabad commissionerate for three years from 1995.
DGP of few states:
♦ Andhra Pradesh – N. Sambasiva Rao
♦ Tamil Nadu – T. K. Rajendran
♦ Uttar Pradesh – Sulkhan Singh
♦ Assam – Mukesh Sahay
Bhaskar Ganguly, former football captain, appointed AIFF ombudsman by Supreme Court
On October 11, 2017, Supreme Court appointed former football captain Bhaskar Ganguly as ombudsman of All India Football Federation (AIFF).
i. Mr. Ganguly had served as captain of the Indian team at the 1982 Asian Games
ii. Supreme court also appointed S Y Quraishi, former Chief Election Commissioner of India as the ombudsman of AIFF.
iii. Mr. Quraishi has also served as Secretary in the Ministry of Youth Affairs and Sports, Government of India.
iv. Both Mr. Ganguly and Mr. Quraishi have been assigned the task to formulate the AIFF constitution within eight weeks.
v. Supreme Court has also stayed the recent order of Delhi High Court allowing all AIFF elected committees to function on a regular basis.
Quick Facts about All India Football Federation (AIFF):
♦ Founded in – 1937
♦ Headquarters – Dwarka Sub City, Delhi
Science & Technology
China to make first contact with Alien life using world's largest dish
China claims to be the first country to make contact with alien life using its radio dish named Five hundred metre Aperture Spherical Telescope (FAST), which is believed to detect alien signals coming from other galaxies.
FAST to detect alien signals:
i. The Five hundred metre Aperture Spherical Telescope (FAST) is considered the world's largest radio dish. It is almost twice as wide as the America's Arecibo Observatory in Puerto Rico.
ii. Other leading experts into Alien Life including astrophysicist Andrew Siemion, the director of the Search for extraterrestrial intelligence (SETI) research centre at Berkley University have been impressed by FAST.
iii. Radio transmissions are forbidden near the dish in order to stop human sources interfering with any signals coming from alien sources.
Few Satellites of China:
♦ ChinaSat 10 – Chinese communications satellite
♦ TanSat – Chinese Earth observation satellite dedicated to monitoring carbon dioxide in Earth's atmosphere
♦ Fanhui Shi Weixing – series of Chinese recoverable reconnaissance satellites