BANKING & FINANCE
7th edition of 'Transformation Series challenge' to be unveiled by Yes Bank
On July 17, 2018, Yes bank announced that it would unveil the 7th edition of 'Transformation Series Challenge'.
i. It has partnered with 12 global leaders like Microsoft, Cisco, IBM and Adobe for the collaboration.
ii. The theme is 'Tech for Urban Development'.
iii. It will focus on Collaborative Innovation – Collaboration as a Service (CaaS) for harnessing innovative solution from young professionals for issues of national importance.
iv. CaaS is an extension of the bank's ART (alliances and relationships driven by technology) philosophy.
v. Reward system: A cash prize of Rs.5 lakh will be awarded to the winning team, followed by ₹3 lakh and Rs.2 lakh to the runners-up. Finalists will also get an opportunity for pre-placement interviews with the bank.
Background:
i. Transformation Series was voted the second most prestigious B-School Competition in 2018 by Dare2compete.
ii. In 2017, 30,000 students participated in the series and top three were selected by the NITI Aayog's Atal Innovation Mission.
iii. Over 75.000 students have participated in the challenge since its launch in 2010.
iv. The top 15 teams will get to work on issues national importance in partnership with NITI Aayog.
YES Bank:
MD&CEO: Rana Kapoor.
Headquarters: Mumbai.
Tagline: Experience our Expertise.
India growth forecast cut by 0.1% for 2018 to 7.3%
On July 17, 2018, According to the World Economic Outlook (WEO) update, The International Monetary Fund (IMF) has cut India's growth projection by 0.1 percentage point for 2018-19.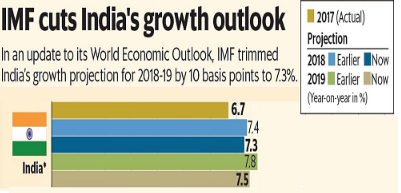 i. It now predicts the GDP growth to be 7.3%.
ii. This was done due to the high oil price rise.
iii. The economy was projected to grow 7.8 per cent by 2019-20 which is now cut to 7.5%.
iv. India still remains the fastest-growing economy among large nations in 2018-19 and 2019-20.
v. India grew by 6.7% in FY2017-18.
About China's growth:
i. China's gworth projection for FY 2018-19 is 6.6% and for FY2019-20 is 6.4%.
ii. For 2017, Chinas growth rate is 6.9%.
Other announcement:
The global GDP growth is expected to be 3.9% in 2018 and 2019.
India's GDP prediction by other organizations:
♦ World Bank: for 2018 -19 is 7.3% and for 2019-20 is 7.5%
♦ Asian Development Bank: for 2018-19 is 7.3% and for 2019-20 is 7.6%.