The addition of a strong base to a carbonyl group results in the formation of an anion. The reversal of the anionic charge may cause expulsion of the attached group, X, e.g.,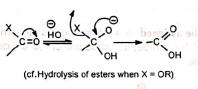 However, in a 1,2-diketone the group X may migrate to the adjacent electron-deficient carbonyl carbon forming α-hydroxy acid.
Thus, benzil on treatment with a strong base forms benzilic acid (salt), whence the name benzilic acid rearrangement.


Barium and thallous hydroxides are more effective than sodium or potassium hydroxides. Alkoxide ions (methoxide, t-butoxide, etc.) in place of hydroxide ion give the corresponding esters.


Phenoxide ions are too weak a nucleophile to attack. Besides aromatic 1, 2-diketones, aliphatic and heterocyclic diketones as also o-quinones undergo this rearrangement.
Mechanism:
It has been seen that the rate of reaction is proportional to the concentrations of benzil and the hydroxide ion, i.e., rate


It has also been found that when the reaction Is carried out In the presence of H218O, benzil exchanges 18O faster than it rearranges.
On the basis of the above observations, it has been suggested that a fast reversible nucleophilic attack occurs at the carbonyl carbon in the first step. The second step is the rate-determining step in which the migration occurs. Finally, a rapid proton transfer completes the process.


The rearrangement is analogous to intramolecular Cannizzaro reaction of glyoxal.
The carbonyl group which is attached to the less electron releasing of the two aryl groups is relatively more positively charged and, hence, is attacked by OH. Consequently, the less electron-donating aryl group migrates to the other carbonyl group.


Applications:
The reaction is a general one and can take place with aromatic, heterocyclic, alicyclic, and aliphatic 1 , 2-diketones as also 1 , 2-quinones.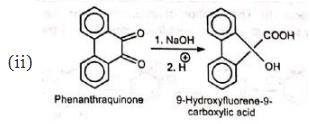 (v) Similar benzilic acid rearrangement is observed when α-haloketones not having α-hydrogens are treated with alkoxides.


This reaction is known as semibenzilic rearrangement.